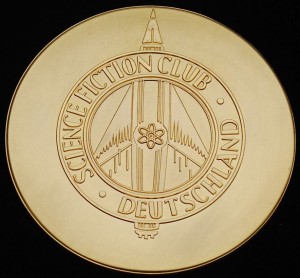 The nominees for the Deutsche Science Fiction Preis 2019 were announced May 27.
The juried award for the best short story and best novel written in the German language is sponsored by the SFCD, Germany´s largest science-fiction club. Each winner will receive €1000.
The awards will be presented at PentaCon to be held November 1-3 in Dresden, Germany.
Beste deutschsprachige Kurzgeschichte / Best German Language Short Story
»Trolltrupp« von Galax Acheronian, erschienen in »Sprung ins Chronozän«, herausgegeben von Peggy Weber-Gehrke, Verlag für Moderne Phantastik Gehrke
»Intervention« von C. M. Dyrnberg, erschienen in »Nova 25«, herausgegeben von Olaf G. Hilscher und Michael K. Iwoleit, Amrûn-Verlag
»Rauschen« von Rico Gehrke, erschienen in »Sprung ins Chronozän«, herausgegeben von Peggy Weber-Gehrke, Verlag für Moderne Phantastik Gehrke
»Confinement« von Thorsten Küper, erschienen in »Nova 26«, herausgegeben von Michael Haitel und Michael K. Iwoleit, Verlag p.machinery
»Kill!« von Andreas G. Meyer, erschienen in »Spliff 85555: Ebersberg«, herausgegeben von Gerhard Schneider, Verlag p.machinery
»Im Regen« von Nadja Neufeldt, erschienen in »Erstkontakt mit Violine« von Nadja Neufeldt, Twentysix
»Kurz vor Pi« von Uwe Post, erschienen in »Spektrum der Wissenschaft 10/2018«, Spektrum der Wissenschaft Verlag
»Der unbekannte Planet« von Tobias Reckermann, erschienen in »Nova 25«, herausgegeben von Olaf G. Hilscher und Michael K. Iwoleit, Amrûn-Verlag
»Muse 5.0« von Nele Sickel, erschienen in »Phantastische Sportler«, herausgegeben von Markus Heitkamp und Wolfgang Schroeder, Verlag Torsten Low
»Die Schwimmerin« von Jutta Siebert, erschienen in »Fiction x Science«, herausgegeben von Melody Aimée Reymond, Michael Kaufmann und Edy Portmann, pako Verlag
»Coming Home« von Tetiana Trofusha, erschienen in »Inspiration«, herausgegeben von Marianne Labisch, Verlag p.machinery
Bester deutschsprachiger Roman / Best German Language Novel
»Canopus – Der Kalte Krieg Band 1« von Dirk van den Boom, Atlantis-Verlag, 349 Pages
»Varianz – Die Reise der Scythe Band 2« von Dirk van den Boom, Cross Cult (Amigo Grafik), 450 Pages
»Die Tiefe der Zeit« von Andreas Brandhorst, Piper-Verlag, 544 Pages
»Das Imago-Projekt« von Robert Corvus, Piper-Verlag, 496 Pages
»NSA« von Andreas Eschbach, Bastei Lübbe (Lübbe Hardcover), 800 Pages
»Koshkin und die Kommunisten aus dem Kosmos« von Ben Calvin Hary, Atlantis-Verlag, 260 Pages
»Die Schwärmer« von Willi Hetze, salomo publishing, 376 Pages
»Hologrammatica« von Tom Hillenbrand, Kiwi (Kiepenheuer & Witsch, 560 Pages
»Die Hochhausspringerin« von Julia von Loucadou, Hanser-Verlag, 288 Pages
»Der letzte Kolonist« von Sebastian Schaefer, Eridanus Verlag, 420 Pages
»Hier ist es schön« von Annika Scheffel, Suhrkamp Verlag, 389 Pages
»Der Platz an der Sonne« von Christian Torkler, Klett-Cotta, 592 Pages