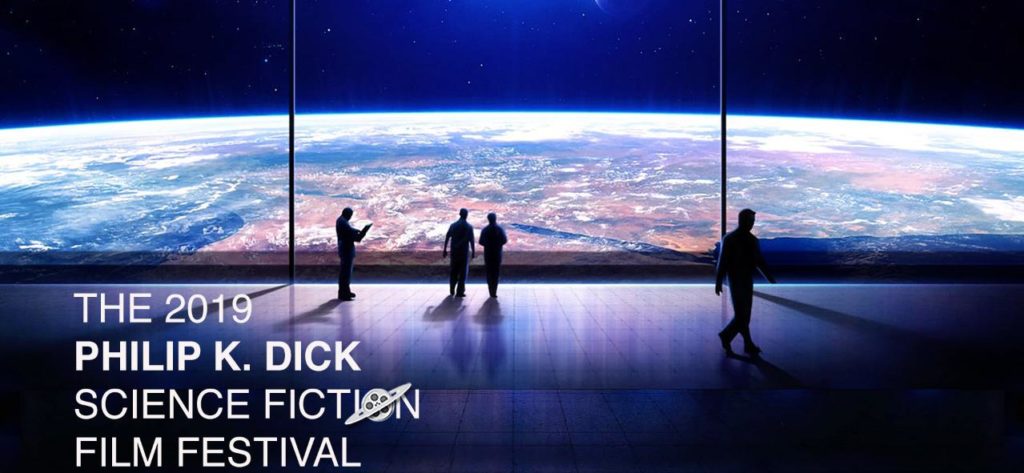 The annual Philip K. Dick Science Fiction Film Festival for the first time since its inception will hold a bi-coastal gathering with films, premieres and panels in New York City, Los Angeles and Santa Ana, CA. Independent filmmakers will have a platform to tackle a variety of themes that empower the narratives of Philip K. Dick, whose work continues to serve as a profound mark on the literary and entertainment worlds.
The festival will open in New York City on Thursday, March 7th and Saturday, March 9th. "We have developed a strong following here," said Daniel Abella, the founder and director of the festival. "Our fans have become loyal supporters of our films and platform so we acknowledge their support by bringing back great sci-fi year after year." Features include Saku Sakamoto's ARAGNE: Sign of Vermillion about a young woman's discovery of a mysterious class of insects and the U.S. premiere of Taking Tiger Mountain Revisited, the remastered version of Kent Smith and Tom Huckabee's post-apocalyptic 1983 film starring Bill Paxton. Then, a lone survivor searches for answers after the human race vanishes in the World Premiere of John Norby's Assimilation.
The West Coast edition of the festival will run in partnership with Media Arts Santa Ana (MASA), a non-profit organization that supports its community's cultural empowerment through special resources and initiatives. Dick, the festival's namesake, was a resident of the city in his final years and wrote several of his last major works there. It will help create discussion about how Santa Ana and Orange County influenced Philip K. Dick's vision and celebrate one of Santa Ana's most treasured and influential artists.
Festivities begin on Thursday, March 14th in Los Angeles. "Blade Runner is set in L.A. in 2019," said Abella when referring to the 1982 adaptation of Philip K. Dick's novel Do Androids Dream of Electric Sheep? "There is no better honor than by holding the festival in the very city and year depicted in one of the greatest sci-fi films of all time." Screening titles include Matthew Evan Balz's Corvus, which follows a woman's perilous efforts to build a machine capable of hypnosis and the depiction of extant technology in Emily Dean's Andromeda about an android's awakening of human emotions. Closing the night is Josh Gibson's atmospheric Pig Film about a woman's work on a hog farm during the impending end of the world.
The festival then opens in Santa Ana, CA from Friday, March 15th through Sunday, March 17th. Essential films include Unzipping, the cinematic directorial debut of actress and writer Lisa Edelstein about the poignant unfastening of a marriage and Star Trek veteran Walter Koenig's confrontation with fate in Michael Baker's Who is Martin Danzig? Holding its World Premiere is Tony Dean Smith's mind-bending thriller Volition about a clairvoyant man's quest to avoid his own murder and the U.S. and L.A. Premiere of Sarah K. Reimers' Bitten about a dog's rabid night of risk and adventure. Dive Odyssey kicks off a lineup of feverish documentaries as Janne Kasperi Suhonen takes viewers on an absorbing aquatic journey and Colin Ramsay and James Uren decipher what makes "good" artificial intelligence in the dawn of ethics and technology in Good in the Machine.
Observing the 90th anniversary of Philip K. Dick's birth and the 50th anniversary of Blade Runner's origin novel, the two organizations joined forces for the Philip K. Dick Multicultural Dystopian/Sci Fi Short Film Challenge, a short film competition that invited participants to develop projects that analyze contemporary life in view of themes associated with Philip K. Dick.
The festival's expansion has also furthered its commitment to feature a more inclusive brand of filmmaking with 31 percent of the official selections directed or co-directed by women and minority filmmakers. Many films are seen from the perspectives of racially and gender diverse characters. "There is a new freshness entering the genre," said Abella, who curated an equality-driven showcase of films from the emerging talent strengthening the industry. "Science fiction is based on exploring the 'other' and no one is more qualified than those groups who have been marginalized to tell their story using the tools of sci-fi."
The PKD Film Festival schedule follows the jump.
Continue reading