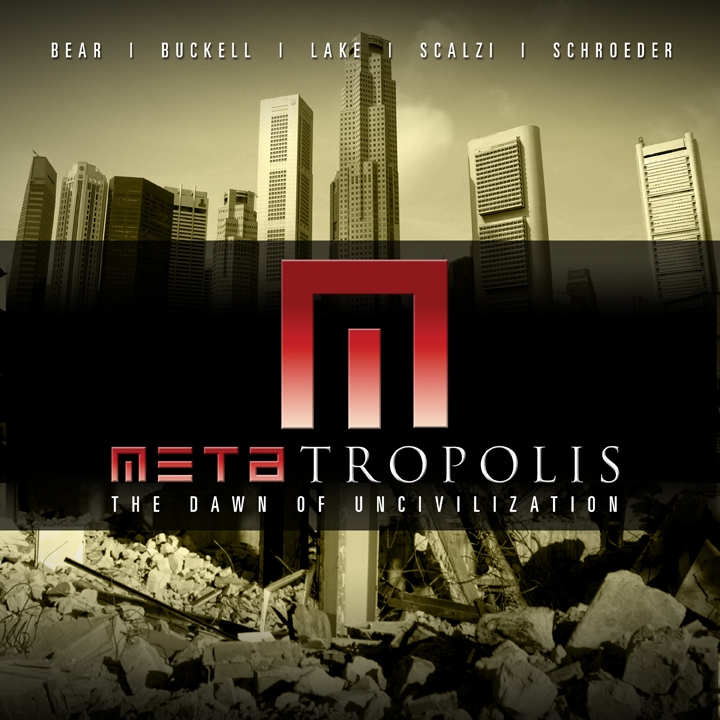 "A veritable Murderer's Row of great writers" is what Audible.com's Steve Feldberg calls the array of sf talent who collaborated on METAtropolis.
The project features five interconnected novellas written exclusively for downloadable audio, Jay Lake's "In the Forests of the Night," Tobias Bucknell's "Stochasti-city," Elizabeth Bear's "The Red in the Sky Is Our Blood," John Scalzi's "Utere Nihil non Extra Quiritaionem Suis," and Karl Schroder's "To Hie From Far Cilenia."
The team created a near future world where big cities are dying, dead or transformed; where the once-thriving suburbs are now the treacherous Wilds; where those who live for technology battle those who would rather die than embrace it. It is a world of zero-footprint cities, virtual nations and armed camps of eco-survivalists.
"It's not just the standard-issue Jetsons future," said author and project editor Scalzi. "It's the idea that cities would be something like interstitial nationsl, where the people of Detroit or Portland might have more in common with the people in Hong Kong or Johannesburg than with the people right down the road."
The first story can be downloaded free.
A press release appears after the jump.