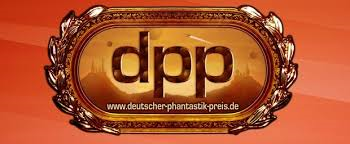 The Deutscher Phantastik Preis 2018 longlist has been posted. Voting is open through April 15 to determine the five finalists in each category.
The award honors speculative fiction published for the first time in German language during the previous year. The longlist is created by an independent jury. In the first round write-in votes are also allowed.
Once the shortlist is determined, winners will be picked by a public vote. Voting on the shortlist begins May 1.
The winners of the DPP 2018 will be honored on the Phantastika, the festival of fantasy, on September 1 in Oberhausen, Germany.
Deutscher Phantastik Preis Longlist
Bester deutscher Roman / Best German Novel
Animant Crumbs Staubchronik — Lin Rina — Drachenmond Verlag
Armageddon — Wolfgang Hohlbein — Piper Verlag
Coldworth City — Mona Kasten — Knaur
Das Blut der Könige – Die Lytar-Chronik 3 — Richard Schwartz — Piper Verlag
Das Geheimnis der Sternentränen — Anke Höhl-Kayser — Bookspot Verlag
Das Herz der Quelle – Sternensturm — Alana Falk — Arena Verlag
Das Koboltikum — Christian von Aster — Edition Roter Drache
Der Axolotlkönig — Sylvia Rieß — Selfpublisher
Der Drachenjäger – Die erste Reise ins Wolkenmeer — Bernd Perplies — FISCHER Tor
Der Fluchsammler — Ann-Kathrin Karschnick — Papierverzierer Verlag
Der Kanon mechanischer Seelen — Michael Marrak — Amrûn Verlag
Der verwunschene Gott — Laura Labas — Drachenmond Verlag
Des Teufels Gebetbuch — Markus Heitz — Knaur
Die Bibliothek der flüsternden Schatten – Bücherstadt — Akram El-Bahay — Bastei Lübbe
Die Chroniken von Azuhr – Der Verfluchte — Bernhard Hennen — FISCHER Tor
Die Dunkelmagierin — Arthur Philipp — Blanvalet Verlag
Die Krone der Sterne — Kai Meyer — FISCHER Tor
Die Legende von Enyador — Mira Valentin — Selfpublisher
Die Welten der Skiir 3 – Patronat — Dirk van den Boom — Cross Cult
FAYRA – Das Herz der Phönixtochter — Nina Blazon — cbj Verlag
Glühender Zorn – Krieg der Drachen 1 — F. I. Thomas — Piper
Hollerbrunn — Tina Skupin — Selfpublisher
Im Bann der zertanzten Schuhe — Janna Ruth — Selfpublisher
Nyx — Dirk van Versendaal — Rowohlt Verlag
QualityLand — Marc-Uwe Kling — Ullstein
Seelenspalter — Ju Honisch — Knaur
Shadow Love — Kaylie Morgan — Papierverzierer Verlag
Sieben Heere – Revolution — Tobias O. Meißner — Piper
Talvars Schuld — Valerie Colberg — Knaur
Tochter des dunklen Waldes — Katharina Seck — Bastei Lübbe
Tote Götter — Faye Hell — Amrûn Verlag
Tränen der Göttin – Erwacht — Bettina Auer — Zeilengold Verlag
Trywwidt – Falsche Freunde — Klara Bellis — Selfpublisher
Water & Air — Laura Kneidl — CARLSEN Verlag
Bestes deutschsprachiges Romandebüt / Best debut novel in German
A Fairy Tale – Die Suche nach dem blauen Herz — Anja Stephan — Selfpublisher
Archibald Leach und die Monstrositäten des Marquis de Mortemarte — Markus Cremer — Art Skript Phantastik Verlag
Das Raunen der Flammen — Helena Gäßler — Drachenmond Verlag
Das verlorene Königreich — Valeria Bell — Impress
Der siebte Sohn — Julia Maar — Selfpublisher
Die Jäger der Götter — Jenna Liermann — Dark Diamonds
Eonvár – Zwischen den Welten — Kat Rupin — Zeilengold Verlag
In Between – Das Geheimnis der Königreiche — Kathrin Wandres — Impress
Izara – Das ewige Feuer — Julia Dippel — Planet!
Opfermond — Elea Brandt — Mantikore Verlag
Tanz der Feuerblüten — Janna Ruth — Ueberreuter Verlag
Thalél Malis – Das Flüstern der Flammen — Nancy Pfeil — Tagträumer Verlag
Bester internationaler Roman / Best international novel
Alle Vögel unter dem Himmel — Charlie Jane Anders — FISCHER Tor
Das Erbe der Seher – Die Licanius-Saga 1 — James Islington — Knaur
Das Erwachen des Feuers — Anthony Ryan — Klett-Cotta
Das Herz der verlorenen Dinge — Tad Williams — Klett-Cotta
Das Lied der Krähen — Leigh Bardugo — Knaur
Das Wunderreich von Nirgendwo — Ross MacKenzie — Verlag Freies Geistesleben und Urachhaus
Die Stadt der tausend Treppen — Robert Jackson Bennett — Bastei Lübbe
Empire of Storms – Pakt der Diebe — Jon Skovron — Heyne
Nemesis – Geliebter Feind — Anna Banks — cbt
Nevernight – Die Prüfung — Jay Kristoff — FISCHER Tor
Schatten über Elantel: Ein Nebelgeborenen-Roman — Brandon Sanderson — Piper
Schwerelos — Katie Khan — Heyne
Scythe – Die Hüter des Todes — Neal Shusterman — FISCHER Sauerländer
Vier Farben der Magie — V. E. Schwab — FISCHER Tor
Wer fürchtet den Tod — Nnedi Okorafor — Cross Cult
Beste deutschsprachige Kurzgeschichte / Best German short story
Alissa im Drunterland — Fabienne Siegmund — Papierverzierer Verlag
Böse Träume — Peer Bieber — Menschmaschinen – Eine Steamcyberpunk Anthologie — Amrûn Verlag
Der geheimnisvolle Gefangene — Gerd Scherm — Reiten wir! – Phantastikautoren für Karl May — Edition Roter Drache
Die Absolute Wahrheit über Werwölfe — Sarah O. Talent — Werwolf – Fantasy aus dem Sperling-Verlag — Sperling-Verlag
Die Privatvorführung — Kaya T. Nova — Steam Master – Die Anthologie — Lysandra Books Verlag
Die Ruinen im Wald — Sarah Drews — Wald – Anthologie — Mondschein-Corona-Verlag
Happy Halloween — Sarah Drews — Halloween – Jetzt schlägt's 13 — Kelebek Verlag
PET — Melanie Vogltanz — Das Dimensionstor – Ein Portal in andere fantastische Welten und Zeiten — Amrûn Verlag
Schattenruf – Erzählung — Klara Bellis — Selfpublisher
Traum und Wahrheit — Jacqueline Mayerhofer — Absinth – Geschichten im Rausch der Grünen Fee — Art Skript Phantastik Verlag
Beste Original-Anthologie/Kurzgeschichten-Sammlung / Best anthology/story collection
12 Monate Angst — Vanessa Kaiser & Thomas Lohwasser — Verlag Torsten Low
Absinth – Geschichten im Rausch der Grünen Fee — Grit Richter — Art Skript Phantastik Verlag
Das Dimensionstor – Ein Portal in andere fantastische Welten und Zeiten — Nadine Muriel & Stefan Cernohuby — Amrûn Verlag
Der Zauber des Winters — Nadine Skonetzki — Zeilengold Verlag
Die Helden-WG – 3 Zimmer, Küche, Axt — Ingrid Pointecker — Verlag ohneohren
Es war einmal … … ganz anders — Sylvia Rieß & Janna Ruth — Machandel Verlag
FaRK Trek – Episode 1 – Das Erwachen der Legenden — Sandra Baumgärtner — Papierverzierer Verlag
Halloween – Jetzt schlägt's 13 — Kelebek Verlag — Kelebek Verlag
Halloweenküsse – Liebe oder saures? — Jenny Wood — Amrûn Verlag
Menschmaschinen – Eine Steamcyberpunk Anthologie — André Skora — Amrûn Verlag
Nacht aus Schatten und Saphiren – Einhorn-Geschichten — Kerstin Arbogast — Selfpublisher
Nordlicht, Elch und Tannengrün – Die schönsten Weihnachtsgeschichten aus Skandinavien — Gabriele Haefs, & Andreas Brunstermann — Knaur
Reiten wir! – Phantastikautoren für Karl May — Alex Jahnke — Edition Roter Drache
Saint Falls: Märchen aus der Welt des Verbrechens — David Michel Rohlmann & Maria Engels — Selfpublisher
Steam Master – Die Anthologie — Anne Amalia Herbst — Lysandra Books Verlag
Teegestöber – eine Tee-Anthologie — Julia Schwaminger — Chaospony Verlag
The U-Files – Die Einhorn Akten — Sandra Florean — Talawah Verlag
Wald – Anthologie — Mondschein-Corona-Verlag
Bestes deutschsprachiges Hörspiel/Hörbuch / Best German Language Radio Play / Audiobook
Das Siegel der Finsternis – Finsternis Saga 1 — Marcus Reichard — Bernd Hölscher — LifeTime Film & Audio
Der Drachenjäger – Die erste Reise ins Wolkenmeer — Bernd Perplies — Oliver Siebeck — Audible Studios
Der Mitreiser und die Überfliegerin — Mira Valentin — Julian Horeyseck — Audible Studios
Der Totengräbersohn 1 — Sam Feuerbach — Robert Frank — Audible Studios
Die Geheimnisse der Alaburg — Greg Walters — Marco Sven Reinbold — Hörbuchmanufaktur Berlin
Die Krone der Sterne — Kai Meyer — Philipp Schepmann — Argon Verlag
Drachenreiter – Die Vulkan-Mission — Cornelia Funke — David Fowler — Atmende Bücher
Fuchsrot – Academy of Shapeshifters 1 — Amber Auburn — Marlene Rauch — Rosenrot Verlag
GötterFunke – Liebe mich nicht — Marah Woolf — Jodie Ahlborn, & Patrick Bach — Oetinger Media
Schatten über Ulldart – Ulldart: Die Dunkle Zeit 1 — Markus Heitz — Johannes Steck — Hörbuch Hamburg HHV
Träume aus Feuer — Maja Winter — Robert Frank — Audible Studios
Beste deutschsprachige Serie / Best German Language Series
Die Phileasson-Saga — Bernhard Hennen & Robert Corvus — Heyne Verlag
Spiegelmagie — Chris Svartbeck — Selfpublisher
Frost & Payne-Reihe — Luzia Pfyl — Greenlight Press
Nebular — Thomas Rabenstein — SciFi-World Medien Verlag
PERRY RHODAN — Pabel-Moewig Verlag
Bester deutschsprachiger Grafiker /Best German-speaking Graphic Artist
Der Klang der Magie – Edingaard Band 2 — Viktoria Petkau / Gedankengrün — Selfpublisher
Die Bibliothekare – Die maskierte Stadt — Guter Punkt — Bastei Lübbe
Die Braut des blauen Raben — Coverandbooks / Rica Aitzetmueller — Zeilengold Verlag
Drachenkralle 1 – Die Klaue des Morero — Clara Vath / Varth Art — Amrûn Verlag
FAAR – Das versinkende Königreich – Herr der Wälder — Atelier Tag 1 — Amrûn Verlag
Keine Helden – Piraten des Mahlstroms — Christian Günther — Amrûn Verlag
Opferreigen — Ingrid Pointecker — Verlag ohneohren
Prinzessin Insomnia & der alptraumfarbene Nachtmahr — Walter Moers, Oliver Schmitt & Lydia Rode — Albrecht Knaus Verlag
Tante Hetty – Ingwer und Intrige — Ingrid Pointecker — Verlag ohneohren
The U-Files – Die Einhorn Akten — Marie Graßhoff — Talawah Verlag
Bestes deutschsprachiges Sekundärwerk / Best German Language Secondary Work (i.e., Related Work)
Corona Magazine — in Farbe und Bunt
Das Science Fiction Jahr 2017 — Michael Görden — Golkonda Verlag
Geek!-Magazin — Panini Verlags GmbH
Handbücher des Drachen: Rollenspiel-Essays — Markus Plötz — Ulisses Medien und Spiel Distribution GmbH
Nachdenken über 'Game of Thrones': George R.R. Martins 'A Song of Ice and Fire' — Jan Söffner — Verlag Wilhelm Fink
Nautilus – Abenteuer & Phantastik — Abenteuer Medien
phantastisch! neues aus anderen welten — Atlantis Verlag
Bester deutschsprachiger Comic / Best German Language Comic
Annas Paradies Bd. 3: Hexenjagd — Daniel Schreiber — Splitter
Demon Mind Game — David Fuleki — Tokyopop
Der Andergaster (Das Schwarze Auge) — Reinhard Kotz — Ulisses Medien und Spiel Distribution GmbH
Die Abenteuer von Autistic Hero-Girl — Daniela Schreiter — Panini Books
Die Pfeffer-Chroniken — Rebekie Bennington & Anna-Maria Jung,? Daniel Scribner — Zwerchfell
Die Stadt der Träumenden Bücher – Buchhaim — Florian Biege — Aalbrecht Knaus Verlag
Echo des Wahnsinns: Geschichten aus dem H.P. Lovecraft Universum — Sphinx Spieleverlag
Gaia — Powree & Oliver Knörzer — Webcomic
Goldfisch 02 — Nana Yaa — Tokyopop
Gung Ho 3: Sexy Beast — Thomas von Kummant, Benjamin von Eckartsberg — Cross Cult
Macha – Geschichten von der Insel Errance — Grimaldi & Maike Plenzke
Mark Brandis – Weltraumpartisanen: Bd. 2: Verrat auf der Venus — Michael Vogt & Nikolai von Michalewsky — Panini
Undead Messiah 01 — Gin Zarbo — Tokyopop