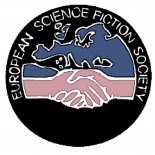 The European Science Fiction Association released the 2021 nominees for the ESFS Achievement Awards and the ESFS Hall of Fame Awards on June 29.
The Hall of Fame award celebrates lifetime contributions.
The winners of these awards will be selected at the next general meeting of the ESFS, which will take place at Eurocon 2021 which takes place from July 15-18 in Fiuggi, Italy.
Note: The nominating country is listed, which in some cases is not the country associated with the work. For links related to each nominee, see here. Some names have been done as screencaps to work around WordPress' failure to support certain special characters.
The nominations for the ESFS Achievement Awards and ESFS Hall of Fame Awards follow the jump. There is also a link to the ESFS Awards website for each award, which has links to additional resources about the nominees.
Continue reading