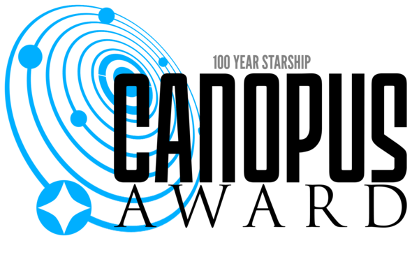 100 Year Starship has announced the finalists in the inaugural Canopus Award for Excellence in Interstellar Writing.
The Canopus Award is an annual writing prize that recognizes "the finest fiction and non-fiction works that contribute to the excitement, knowledge, and understanding of interstellar space exploration and travel."
The winners will be revealed on October 30, during the 100 Year Starship 2015 Public Symposium in Santa Clara, California.
Previously Published Long-Form Fiction (40,000 words or more):
Slow Bullets  by Alastair Reynolds
Other Systems by Elizabeth Guizzetti
The Creative Fire by Brenda Cooper
InterstellarNet: Enigma by Edward M. Lerner
Aurora by Kim Stanley Robinson
Coming Home by Jack McDevitt
Previously Published Short-Form Fiction (between 1,000 and 40,000 words):
"Race for Arcadia" by Alex Shvartsman
"Stars that Make Dark Heaven Light" by Sharon Roest
"Homesick" by Debbie Urbanski
"Twenty Lights to the Land of Snow" by Michael Bishop
"Planet Lion" by Catherynne M. Valente
"The Waves" by Ken Liu
"Dreamboat" by Robin Wyatt Dunn
In the category of "Original Fiction" (1,000-5,000 words):
"Landfall" by Jon F. Zeigler
"Project Fermi" by Michael Turgeon
"Everett's Awakening" by Yelcho
"Groundwork" by G. M. Nair
"His Holiness John XXIV about Father Angelo Baymasecchi's Diary" by   Óscar Garrido González
"The Disease of Time" by Joseph Schmidt
Original Non-Fiction (1,000-5,000 words):
"Why Interstellar Travel?" by Jeffrey Nosanov
"Finding Earth 2.0 from the Focus of the Solar Gravitational Lens" by Louis Friedman and Slava Turyshev
Canopus Award Judges: Writer and 100YSS Creative and Editorial director Jason Batt; author and former Wall Street Journal reporter August Cole; Founder of International Speechwriting Associates Kathleen Colgan, Ph.D.; teacher at the University of Edinburgh in the School of Education and Leadership, Janet DeVigne; editor Jaym Gates, 100YSS Principal and former astronaut Mae Jemison, M.D., Chapman University creative writing student Alec Medén; Rutgers University Professor Ronke Olabisi. Ph.D.; faculty and advisor to the Singularity University David Orban, Georgia high school freshman Bailey Stanley, writer and anthropologist Juliette Wade, Ph.D.; Aeronautical and Astronautical engineer Paul Webber; journalist Sofia Webber; astrobiologist and creator of Yuri's Night Loretta Whitesides; and Major General Ken Wisian.