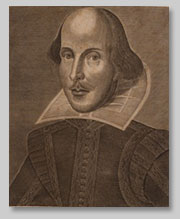 A little birdie told me that if I was looking to buy a page from a Gutenberg Bible for $50,000, the 47th California International Antiquarian Book Fair is the place to be.
While I'd just as soon they kept copies of Gutenberg Bibles in one piece, and I have no idea if $50,000 is a good deal for a page of one, I notice there are a lot of other reasons to visit the Fair being held at the Pasadena Convention Center from Feburary 7-9.
This year's Book Fair will include a special celebration of William Shakespeare's 450th birthday. A display from the Huntington Library and Memorial Gardens will focus on its Shakespeare scholarship since 1920. Fine art and private press books from the Ella Strong Denison Library at Scripps College will show how Shakespeare has inspired the art of the book. Prompt books with actors' handwritten notes and costume and set designs from the Honnold/Mudd Library at the Claremont College Library will offer insights into stage productions.
Rare books on food and cookery in Elizabeth times from The University of California San Diego library and a related special panel "What Shakespeare Ate: Dining in the Elizabethan Age" on Saturday at 1 p.m.will further immerse Book Fair visitors into the world of the Bard. Panelists include Los Angeles Times and Pulitzer Prize-winning food critic Jonathan Gold; noted food historian Charles Perry; cookbook author and founder of the Ecole de Cuisine La Varenne Anne Willan; and bookseller Ben Kinmont who specializes in antiquarian books on gastronomy. Los Angeles Times columnist Patt Morrison will moderate.
[Thanks to John King Tarpinian for the story.]