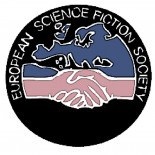 The winners of the 2014 European Science Fiction Society Awards were announced August 24 at the 36th Eurocon, Shamrokon, in Dublin.
European Grand Master
Jim Fitzpatrick – Ireland
Hall of Fame
Best Author: Wolfgang Jeschke – Germany
Best Artist: Jim Fitzpatrick – Ireland
Best Publisher: Angry Robot – United Kingdom
Best Magazine: Cosmoport – Belarus
Best Translator: Ms. Kersti Juva – Finland
Best Promoter of Science Fiction: Dave Lally – Ireland
These one-time awards are chosen by the European Committee by secret ballot based on nominations submitted by the National Delegates.
Spirit of Dedication:
Artist: Alexander Prodan – Ukraine
Best Performance: Adaption of Dr. Horribles Sing-along blog – Croatia
Best SF Website: Geek Ireland – Ireland
Best Fanzine: Darker – Russia
Best creator of children's Science Fiction or fantasy books:
(tie)
Oisín McGann – Ireland
Vladimir Arenev – Ukraine
Encouragement Awards
Marco Rauch – Austria
Victor Martinovich – Belarus
Genoveva Detelinova – Bulgaria
Irena Hartmann – Croatia
Míla Linc – Czech Republic
Anthea West – Ireland
Robert M. Wegner – Poland
Rui Alex – Portugal
Eugen Cadaru – Romania
Roman Shmarakov – Russia
Lenka Štiblaríková – Slovakia
Igor Silivra – Ukraine
These Awards are granted according to the suggestions from the National Delegates to a young writer or artist from each European Country.