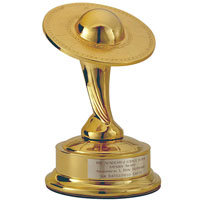 The 40th annual Saturn Awards were presented in Burbank, CA on June 26. The awards are given by the Academy of Science Fiction, Fantasy and Horror Films to "the best in sf, fantasy and horror film and television." Category winners are listed below.
Four special awards also were presented. The Dan Curtis Legacy Award went to Bryan Fuller, who began his TV career by selling specs to Star Trek: Deep Space 9 and has become a TV writer-producer whose credits include Hannibal and Heroes.
Actor Malcolm McDowell received The Life Career Award. Reminding the audience that his character killed Captain Kirk in Star Trek: Generations, he shouted at Trek fans with mock outrage, "Get a life! Shatner deserved everything he got. Besides, I freed him up to do Boston Legal."
The George Pal Memorial Award was given to makeup master Greg Nicotero. Nicotero, known for his work on The Walking Dead, "sent a video acceptance speech from the set of that show, beginning with 'Walking Dead' characters bashing in zombies' heads with a Saturn statuette," reports Variety.
Author Marc Cushman received a Special Recognition Award for his 30-year effort to write the definitive history of the original Star Trek; the third and final volume will be out this year.
Best Comic-to-Film Motion Picture
Iron Man 3
Best Science Fiction Film
Gravity
Best Fantasy Film
Her
Best Horror Film
The Conjuring
Best Action/Adventure Film
Fast & Furious 6
Best Thriller Film
World War Z
Best Actor
Robert Downey, Jr. (Iron Man 3)
Best Actress
Sandra Bullock (Gravity)
Best Supporting Actor
Ben Kingsley (Iron Man 3)
Best Supporting Actress
Scarlett Johansson (Her)
Best Performance by a Younger Actor
Chloe Grace Moretz (Carrie)
Best Director
Alfonso Cuaron (Gravity)
Best Writing
Spike Jonze (Her)
Best Editing
Alfonso Cuaron, Mark Sanger (Gravity)
Best Production Design
Dan Hennah (The Hobbit: The Desolation of Smaug)
Best Music
Frank Ilfman (Big Bad Wolves)
Best Costume
Trish Summerville (The Hunger Games: Catching Fire)
Best Make-Up
Donald Mowat (Prisoners)
Best Special / Visual Effects
Tim Webber, Chris Lawrence, David Shirk, Neil Corbould (Gravity)
Best Independent Film
12 Years a Slave
Best International Film
Big Bad Wolves
Best Animated Film:
Frozen
Best Network Television Series
(tie)
Hannibal
Revolution
Best Syndicated/Cable Television Series
The Walking Dead
Best Television Presentation of a Limited Series
Breaking Bad
Best Youth-Oriented Series on Television
Teen Wolf
Best Actor on Television
Mads Mikkelsen (Hannibal)
Best Actress on Television
Vera Farmiga (Bates Motel)
Best Supporting Actor on Television
Aaron Paul (Breaking Bad)
Best Supporting Actress on Television
Melissa McBride (The Walking Dead)
Best Younger Actor on Television
Chandler Riggs (The Walking Dead)
Best Guest Star on Television
Robert Forster (Breaking Bad)
Best DVD/BD Release
Big Ass Spider
Best DVD/BD Classic Film Release
Halloween: 35th Anniversary Edition
Best DVD/BD Collection Release
Chucky: The Complete Collection
Best DVD/BD Television Series Release
Star Trek: The Next Generation, Season 3,4,5
The Dan Curtis Legacy Award
Bryan Fuller
The George Pal Memorial Award
Greg Nicotero
The Life Career Award
Malcolm McDowell
The Special Achievement Award
Marc Cushman