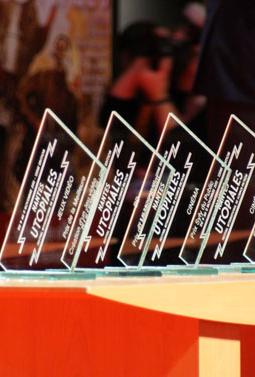 Finalists for 2014 European Utopiales Prize have been announced. Given by the Nantes International Science Fiction Festival, the prize rewards a novel, or a collection, published in French during the eligibility period whose author is a citizen of a country belonging to the European Community. The prize has a cash value of 2000 euros.
7 secondes pour devenir un aigle by Thomas Day, Éditions Le Bélial
Juste à temps by Philippe Curval, Éditions La Volte
L'Opéra de Shaya by Sylvie Lainé, Éditions Actusf
La longue terre by Terry Pratchett and Stephen Baxter, Éditions L'Atalante
Sumerki by Dmitry Glukhovsky, Éditions L'Atalante
The award jury includes Jean-Pierre Dionnet (writer, scriptwriter and journalist), Florence Porcel (writer, journalist and actress) and Guillaume Choplin (reader).
[ Via Europa SF.]