(1) Forry Ackerman's hand went unsold in the Bradbury auction. Well, not his actual hand, a sculpture of it. Presumably nobody realized that's what it is or there might have been takers.
In a lot titled Ray Bradbury Personally Owned Objects D'Art the description of item (4) is —
very detailed hand sculpture of a man's hand wearing a large ring, painted in a bronze color finish. Evidence of prior mounting to a base and scattered chips to finish;
John King Tarpinian recognized the "large ring" is Ackerman's famous Dracula ring – originally worn by John Carradine in Universal's House of Frankenstein (1944) and House of Dracula (1945), then by Bela Lugosi in Abbott and Costello Meet Frankenstein (1948).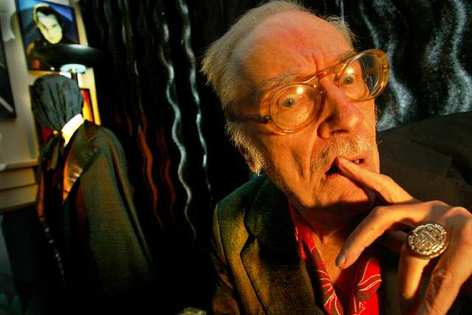 Ackerman and Bradbury were friends for many decades, so if there was reason to make castings or sculptures of Ackerman's hand then there might be an equally good reason why Bradbury owned one. Perhaps someday we'll find out.
(2) Disney will remake Something Wicked This Way Comes, originally produced in 1983 from a script written by Ray Bradbury himself.
The remake will be directed by Seth Grahame-Smith. This will be the first time the author of Abraham Lincoln: Vampire Hunter has directed a movie, though his heart is clearly in the right place —
"I have been so crazy about this book, and it was such a formative title in my life that I actually wrote a piece on NPR about why it is so important for young males to read," Grahame-Smith said. "It is a classic coming-of-age, father-son story about the transition from childhood to adulthood and how kids can't wait to be adults and adults romanticize their childhoods. I'm not remaking the movie; I want the haunted atmosphere that makes the book so chilling, and I want to reinstate some of the classic scenes from the book that were missing from the '83 film."
(3) The Lake County News-Sun's editorial writer, a red hot Bradbury fan, grows increasingly grumpy as it appears that the author's home town of Waukegan is about to snub Bradbury again by declining to name a school in his honor.
The School Board's current argument against honoring the world-revered author is that he moved away from Waukegan. That's what often happens. It's not a punishable offense.

When the board considered renaming Whittier School, the same argument against Bradbury was offered although it did not stop a previous board from naming a middle school after Jack Benny, another hometown product who left.

But Bradbury so truly loved growing up in Waukegan that reflections of his youth and the town he revered reverberate through his books. People everywhere in the world know about Waukegan because they know Bradbury….

For the record, Samuel Langhorne Clemens moved away from Hannibal, Mo., when he was 17. But Hannibal never had any trouble finding suitable ways to honor him. Townsfolk named a school for him. They knew being Mark Twain's hometown was their honor, even more than his.
(4) Something else Mark Twain and Ray Bradbury have in common is they both have books on Edina, MN's 7th and 8th Grade Reading List – The Adventures of Tom Sawyer and Fahrenheit 451 – though the blogger who pointed this out feels theirs are the only two works on the current list that deliver the same challenge and literary value as the books on Minnesota's 7th and 8th Grade Reading List in 1908.