After seven weeks of voting, yielding 3,100 ballots, the 2015 winners of the Rondo Hatton Awards have been announced.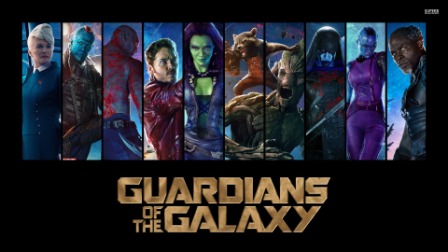 BEST FILM OF 2014
GUARDIANS OF THE GALAXY
Runner-up: THE BABADOOK
Honorable mention: GODZILLA; DAWN OF THE PLANET OF THE APES
BEST TV PRESENTATION
THE WALKING DEAD: 'The Grove'

Runners-up: DOCTOR WHO; AMERICAN HORROR STORY: COVEN
Honorable mention: PENNY DREADFUL
BEST CLASSIC DVD OF 2014
NIGHTBREED: THE DIRECTOR'S CUT (Shout!)

Runners-up: THE TIME MACHINE; THE CABINET OF DR. CALIGARI
Honorable mention: THE INNOCENTS
BEST CLASSIC DVD/BLU-RAY COLLECTION
BATMAN: THE COMPLETE TELEVISION SERIES (Warner Home Video)

Runner-up: VINCENT PRICE COLLECTION VOL. 2
Honorable mention: UNIVERSAL CLASSIC MONSTERS: 30-FILM COLLECTION; HALLOWEEN: THE COMPLETE COLLECTION
BEST RESTORATION
NIGHTBREED: THE DIRECTOR'S CUT (Shout!)

Runner-up: THE CABINET OF DR. CALIGARI (Kino)
Honorable mention: THE QUATERMASS XPERIMENT (Kino); THEATRE OF BLOOD (Arrow)
BEST COMMENTARY
Clive Barker and Mark AlanMillerNIGHTBREED: THE DIRECTOR'S CUT

Runners-up: Tim Lucas (PLANET OF THE VAMPIRES); Klaus Kinski (NOSFERATU)
BEST DVD EXTRA
PHANTOM OF THE PARADISE: PAULWILLIAMSANDGUILLERMODELTORO

Runner-up: Tribes of the Moon: Making Nightbreed (NIGHTBREED: THE DIRECTOR'S CUT);
Honorable mention: Caligari: When Horror Came to the Cinema (THE CABINET OF DR. CALIGARI)
BEST INDEPENDENT FILM
WHAT WE DO IN THE SHADOWS, directedbyJemaine ClementandTaikaWaititi

Runner-up: THE LASHMAN
Honorable mentions: A GIRL WALKS HOME ALONE; GODZILLA BATTLE ROYALE
BEST SHORT FILM
THE MILL AT CALDER'S END, directed byKevinMcTurk

Runner-up: A ZOMBIE NEXT DOOR
Honorable mentions: BUILD ME UP BUTTERCUP; BROKEN; WITCH GIRL; THEATRE FANTASTIQUE: MADAME LA SOEUR
BEST DOCUMENTARY FEATURE
JODOROWSKY'S DUNE, directed byFrankPavich

Runner-up: AS TIMELESS AS INFINITY: THE TWILIGHT ZONE LEGACY
Honorable mention: UNCLE FORRY'S ACKERMANSIONS
BOOK(S) OF THE YEAR
TIED:
THE CREATURE CHRONICLES by Tom Weaver with David Schecter and Steve Kronenberg
THE OUTER LIMITS AT 50 by David J.Schow with Ted C.Rypel.

Runner-up: THE ILLUSTRATED HISTORY OF DON POST STUDIOS by Lee Lambert
Honorable mention: THE ART OF JAPANESE MONSTERS by Sean Linkenback
BEST MAGAZINE
RUE MORGUE

Runners-up:  FANGORIA, HORRORHOUND
Honorable mention: VIDEO WATCHDOG
BEST MAGAZINE (classic)
FAMOUS MONSTERS

Runners-up: DIABOLIQUE; SCARY MONSTERS; MONSTERS FROM THE VAULT
Honorable mention: LITTLE SHOPPE OF HORRORS, G-FAN, FILMFAX
BEST ARTICLE
'The Complete Godzilla Chronology, 1954-2004,' byAugustRagone, FAMOUS MONSTERS #275

Runners-up:  'Days of Future Past: Remembering the Outer Limits,' by David J. Schow, SCREEM #29; 'Dick Smith: An Appreciation of the Master of Make-Up,' by Scott Essman, BELOW THE LINE (industry magazine).
Honorable mentions:'Family Man,' by James Gracey, DIABOLIQUE #20;  'Lady Impunity,' by Max Weinstein, DIABOLIQUE #22; 'Arkham House Publishers: 75 Years of Scares,' by Mark C. Glassey, SCARY MONSTERS #94; 'Ghost Stories for Christmas,' by Kier-la Janisse, VIDEO WATCHDOG #176; 'Carnival of Monstrosity: 70th Anniversary of House of Frankenstein,' by Greg Mank, MONSTERS FROM THE VAULT #33; 'For the Love of Schlock,' by Nathan Hannemann and Aaron Crowell, HORRORHOUND #46; 'The Making of Dracula, Prince of Darkness,' by Bruce G. Hallenbeck, LITTLE SHOPPE OF HORRORS #33.
BEST INTERVIEW (Award goes to interviewer)
Chris Alexander interview with Werner Herzog,FANGORIA #334

Runner-up: Jessica Dwyer interviews Anne Rice, HORRORHOUND #48
Honorable mentions: Michael Doyle interviews Ivan Reitman, RUE MORGUE #151; Rod Labbe interviews Jerry Lacy, SCARY MONSTERS #90; Joe Moe interviews John Logan, FAMOUS MONSTERS #276.
BEST OVERALL ISSUE
DIABOLIQUE #22 (Childbirth, family and horror)

Runner-up: FANGORIA #330 (Nightbreed)
Honorable mentions: MONSTERS FROM THE VAULT #33 (Karloff); HORRORHOUND #48  (horror fiction); RUE MORGUE #151 (Ghostbusters); FAMOUS MONSTERS (Matheson); LITTLE SHOPPE OF HORRORS (Dracula);
BEST COLUMN
DIARY OF THE DEB byDebbieRochon (FANGORIA)

Runners-up: They Came from the Krypt, by Jon Kitley (HORRORHOUND); The Doctor Is In-Sane, by Dr. Gangrene (SCARY MONSTERS)
Honorable mentions: It Came from Bowen's Basement, by John Bowen (RUE MORGUE); Fright Gallery, by Gary Pullin (RUE MORGUE); Tales from the Attic, by Tim Lucas (GOREZONE); Scare-News (John Skerchock, SCARY MONSTERS)
BEST COVER
FANGORIA #330 by Nick Percival

Runners-up: RUE MORGUE #150 (Gary Pullin, Andrew Wright); DIABOLIQUE #16 by Robert Aragon
Honorable mentions: HORRORHOUND #50 (Ed Repke); MAD SCIENTIST #29 (Mark Maddox); FAMOUS MONSTERS #272 (Simon Thorpe); MONSTERS FROM THE VAULT #33 (Kerry Gammill);  SCREEM #29 (Maddox)
BEST WEBSITE
Joe Dante's TRAILERS FROM HELL

Runners-up: Dread Central; Count Gore De Vol's Creature Features; Mick Garris Interviews
BEST HORROR BLOG
GANGRENE'S MAD BLOG

Runners-up: Collinsport Historical Society; Video Watchblog; Terror from Beyond the Daves
Honorable mentions: Peter Cushing Appreciation Society; Frankensteinia; Day of the Woman; The Good, the Bad and the Godzilla
BEST CONVENTION OF 2014
MONSTERPALOOZA

Runners-up: Monster Bash; HorrorHound Weekend
Honorable mentions: G-Fest;Texas Frightmare; Fright Night Film Fest;  Mad Monster Party; Rue Morgue's Festival of Fear; WonderFest
BEST FAN EVENT
EVIL DEAD CAST REUNION (HORRORHOUND WEEKEND)

Runner-up: Karloff: A One-Person Show starring Randy Bowser (Salem, Ore.)
Honorable mentions:Poe Bronze Bust in Boston; Outer Limits art show at Creature Features; Ifukube 100 concert at G-Fest.
FAVORITE HORROR HOST
SVENGOOLIE

Runner-up: Penny Dreadful
Honorable mentions: The Ghouligans; Dr. Gangrene; Count Gore De Vol.
BEST HORROR COMIC BOOK
THE WALKING DEAD by Robert Kirkman andCharlesAdlard

Runners-up: AFTERLIFE WITH ARCHIE; BELA LUGOSI'S TALES FROM THE GRAVE;
Honorable mentions: CLIVE BARKER'S NEXT TESTAMENT; Corben's EDGAR ALLEN POE (Morella and Rue Morgue)
BEST HORROR MULTI-MEDIA OR PODCAST
MONSTER KID RADIO (Derek Koch)

Runner-up: KILLER POV
Honorable mention: FANTASTIC FILMS OF VINCENT PRICE; KAIJUCAST; WELCOME TO NIGHTVALE
BEST CD
ORIGINALGODZILLA SOUNDTRACK (Death Waltz)

Runner-up: PHANTOM OF THE OPERA (new score by The Laze)
Honorable mention: BIG BAD (Horrorhound compilation); SPINE CHILLERS (Halloween haunt music by Sam Haynes)
BEST TOY, MODEL OR COLLECTIBLE
CREATURE, Universal Monsters Select (Diamond Select Toys)

Runners-up: Lily Munster maquette (Sideshow);  Forrest J Ackerman statue (Dark Horse)
Honorable mention: War of the Gargantuas (X-Plus)
CLASSIC MOST IN NEED OF RELEASE, UPGRADE OR RESTORATION
I WAS A TEENAGE WEREWOLF/FRANKENSTEIN (both films)

Runners up: OLD DARK HOUSE (1932); THE BLACK CAT (1934); BEN/WILLARD
INDIVIDUAL RONDO AWARDS
WRITER OF THE YEAR
MAXWEINSTEIN  (Diabolique editor)

Runners-up: Tim Lucas, Greg Mank, April Snellings, Nathan Hanneman, Gary Don Rhodes, Kim Newman
ARTIST OF THE YEAR
BOBEGGLETON

Runners-up: Mark Maddox, Daniel Horne, Ed Repka,  Joel Robinson, Frank Dietz, Steve McGinnis
LINDA MILLER AWARD FOR FAN ARTIST OF THE YEAR (In memory of the late Linda Miller)
WILLIAM C. COPE

Runners-up: Jason Brower, Eric Puckett, Jerrod Brown, Eric Swartz, John Febonio, Malcolm Gittins, John Sargent
REVIEWER OF THE YEAR
MARK D.CLARK (Monsters from the Vault)

Runners-up: Tim Lucas, David-Elijah Nahmod, Glenn Erickson, Stuart Andrews, Nathan Hannemann, Eric Shirey
HENRY ALVAREZ AWARD FOR CREATIVE DESIGN
INTERNATIONAL FAN OF THE YEAR
NIGEL HONEYBONE (Australia)
 MONSTER KID OF THE YEAR
THE MONSTER KID HALL OF FAME
The four latest inductees are
 MICHAEL WELDON, The Psychotronic pioneer
JOSE MOJICA MARINS (COFFIN JOE), Brazil's superior master of horror
GARY DON RHODES, Lugosi's grand biographer
SARA KARLOFF, Daughter of the gentleman actor