Neil Clarke has announced the Clarkesworld Reader's Poll winners.
The readers picked "Spring Day is Coming" by Liu Junwei as their favorite cover art.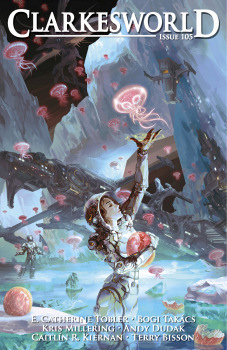 STORIES
"So Much Cooking" by Naomi Kritzer
"Yuanyuan's Bubbles" by Liu Cixin, translated by Carmen Yiling Yan (tie) "Cat Pictures Please" by Naomi Kritzer (tie)
"Cassandra" by Ken Liu (tie) "The Three Resurrections of Jessica Churchill" by Kelly Robson (tie) "Today I am Paul" by Martin L. Shoemaker (tie)
Clarke proudly noted three of these top-voted Clarkesworld short stories are Nebula nominees:
Under the circumstances, it's surprising that the readers' favorite, Naomi Kritzer's novelette "So Much Cooking," didn't rate a Nebula nomination in its category.