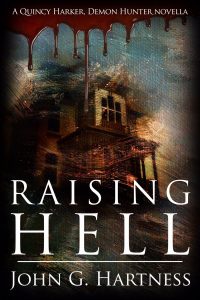 Charlotte author John G. Hartness is the winner of the 2016 Manly Wade Wellman Award for his novel Raising Hell.
The award is given by the North Carolina Speculative Fiction Foundation to recognize outstanding science fiction and fantasy novels written by North Carolina authors.
The winner was announced July 16 at ConGregate in High Point, North Carolina. In his acceptance speech, Hartness expressed both his gratitude to those who voted, as well as his honor at being included among his fellow nominees this year.
The award is named for long-time North Carolina author Manly Wade Wellman, and the recipient is chosen by a vote of members of sf conventions held in that state: illogiCon, ConCarolinas, ConTemporal, and ConGregate.
[Thanks to Samuel Montgomery-Blinn for the story.]