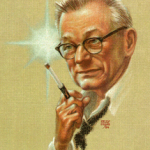 The John W. Campbell Memorial Award shortlist has been announced. The award is  given for the best science fiction novel of the previous year.
The winner will be named during the Campbell Conference Award Banquet on Friday, June 16, as part of the annual Campbell Conference.
Finalists for the 2017 John W. Campbell Memorial Award
| | |
| --- | --- |
| Alastair Reynolds and Stephen Baxter | The Medusa Chronicles |
| Don DeLillo | Zero K |
| Kij Johnson | The Dream-Quest of Vellitt Boe |
| Paul J. McAuley | Into Everywhere |
| Nisi Shawl | Everfair |
| Tricia Sullivan | Occupy Me |
| Tade Thompson | Rosewater |
| Lavie Tidhar | Central Station |
| Colson Whitehead | The Underground Railroad |
| Aliya Whiteley | The Arrival of Missives |
| Rick Wilber | Alien Morning |
| Ben Winters | Underground Airlines |
| John Nicholas Wood | Azanian Bridges |
The Campbell Memorial Award was created to honor the late editor of Analog (previously Astounding Science Fiction). Campbell, who edited the magazine from 1937 until his death in 1971, is considered by many the father of modern SF. Harry Harrison and Brian Aldiss established the award in 1972.
Jurors this year included Gregory Benford, Sheila Finch, James Gunn, Elizabeth Anne Hull, Paul Kincaid, Christopher McKitterick, Pamela Sargent, and Lisa Yaszek.
The Campbell Conference has been held each year since 1978, usually in Lawrence, Kansas. It includes a Friday-evening banquet where the annual Theodore Sturgeon and John W. Campbell Memorial Award are presented; a round-table discussion with scholars, scientists, and writers of science fiction; and other events.
This year's Campbell Conference celebrates James Gunn and the mission of the Gunn Center – "Saving the world through science fiction." The Conference takes place June 16-18.
[Thanks to Chris McKitterick for the story.]