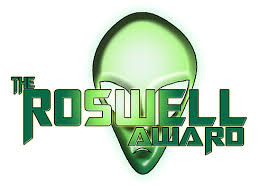 On May 20, Sci-Fest L.A. will partner with LitFest Pasadena for dramatic readings of the finalists' stories for The Roswell Award for short science fiction by adults. The event will begin at 3:30 p.m. at the Pasadena Playhouse. Admission is free, but seating is limited.
FINALISTS
Mel Gurney, "I'll Have What He's Having"
Liz Hufford, "Trash Landed"
Richard Larson, "Fifteen Minutes Hate"
Neil Stevens, "Midgley Avenged"
HONORABLE MENTIONS: Jaap Boekestein, Clio Davis, Madeleine McDonald, M. A. Nicholson, Peter-Paul Ndyani.