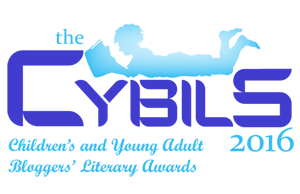 The 2018 finalists for the Cybils (Children's and Young Adults Bloggers' Literary Awards) were announced on January 1. They were selected from 1,335 books nominated across all categories.
The Cybils Awards aims to recognize the children's and young adult authors and illustrators whose books combine the highest literary merit and popular appeal. If some la-di-dah awards can be compared to brussels sprouts, and other, more populist ones to gummy bears, we're thinking more like organic chicken nuggets. We're yummy and nutritious.
Here are the results from the speculative fiction categories, plus other finalists of genre interest.
Elementary/Middle-Grade Speculative Fiction
Inkling
by Kenneth Oppel
Harper Collins Canada
Have you ever had an inkling that something was about to happen? For the Rylance family things have been tough since Mom died. Dad has writer's block, Ethan's school project is overwhelming and Sarah, who has Down's Syndrome, is fixated on getting a puppy. Then, one night, a little blot of ink jumps off Dad's sketchbook and begins to explore the world by devouring the books it encounters. Ethan names it Inkling, and its inquisitive and caring nature helps the Rylance family work through their grief and learn about themselves. Thought-provoking dilemmas, great characterization, and a swift plot, all make this a book that kids will devour.
Love Sugar Magic: A Dash of Trouble
by Anna Meriano
Walden Pond Press
It's not easy being the youngest of 5 sisters, but what makes it worse for Leo is being told she is too young to help in the family bakery for the annual Dia de los Muertos festival. To top it off, the family secret is revealed by accident – they are Mexican brujas, who put magic to work in their baking! Leo knows could help, if they'd let her. When her best friend starts to fall for a boy, she decides to test her baking magic and prove her talent so she can join in the family traditions. It's magically realistic, with a family that makes mistakes and forgives and fills the pages with baking love. Readers will warm to this story full of spells going hilariously wrong, baking, family love and friendship.
Nevermoor: The Trials of Morrigan Crow
by Jessica Townsend
Little, Brown Books for Young Readers
Cursed from the day she was born, Morrigan never expects anything good to happen to her. Then, on her eleventh birthday, she is whisked away to the secret, magical city of Nevermoor and invited to compete in the trials to become a member of the Wundrous society. There is plenty of suspense and action as readers follow Morrigan through the trials, hoping that she will be chosen to stay. This is a very readable fantasy adventure that will keep readers wondering what will happen next, and especially delight Harry Potter fans!
Snared: Escape to the Above (Wily Snare)
by Adam Jay Epstein
Imprint
Wily Snare has never left the Carrion Tomb, where he works as a trapsmith for its cavern mage Stalag, designing elaborate traps to foil treasure seekers. Then an acrobatic elf, a moss golem, and a former knight with a floating arm named Righteous evade all of his traps, ambush Stalag and take his most valuable treasure, Wily himself. They want Wily's quick fingers, wit, and ability to detect and disable traps to raid some of the most challenging dungeons in the realm. But by the end of their adventure, treasure isn't important to the group–they have become a family. Snared is an action-packed and heartwarming adventure filled with twists and turns and memorable characters, that's sure to captivate fans of dungeon crawling.
Sweep: The Story of a Girl and Her Monster
by Jonathan Auxier
Harry N Abrams
Life is hard for the kids who clean the chimneys of Victorian London, especially if the kid is a girl. Nan Sparrow was once looked after by the Sweep, who made her story soup when times were tough. But since his disappearance, Nan's been forced to climb chimneys for a cruel master. Then the glowing coal the Sweep left her becomes a living creature of ash, her friend and protector, "Charlie." Nan's adventure is a heartwarming journey of the magic of love and story, full of vividly drawn characters, from the cruel sweep master Crudd to Nan's friend the mudlark Toby Squall and the kind teacher Miss Bloom – the last two keeping their Jewish heritage a secret from almost everyone but Nan. And Charlie, the soot "monster," is the most marvelous of all.
The Stone Girl's Story
by Sarah Beth Durst
Clarion Books
For Mayka, a living girl carved from stone, and the rest of her stone family, the stories of their lives are carved directly onto their surfaces by their maker, and as the marks erode so do they. When there is no one left to refresh the carvings, Mayka ventures into the world of humans to find someone to take up the task, but she learns that not all people can be trusted and that the rules may be different for people of flesh and stone. Old fears and secrets (and a giant carved monster) must be confronted before she finds a way to save her stone family and their stories. This unique fantasy world offers both adventure and thoughtful contemplation about selfhood and story.
Thisby Thestoop and the Black Mountain
by Zac Gorman
HarperCollins
No one would have picked Thisby Thestoop to be the heroine of a great adventure. And yet, this foundling girl (whose only friend is a slime named Mingus), who lives in a dungeon, feeding and cleaning up after its monsters, saves a prince and princess. The perilous journey of the two very different girls, Thisby shy and grubby and Iphigenia beautiful and entitled, shows how a friendship can be made under the most challenging of circumstances, and the challenge of maintaining a friendship even when trust is broken. Witty, funny, and full of feeling, with memorable characters, both major and minor, this will appeal to gamers and fantasy fans of all stripes, especially those who are looking for real characters with whom they can sympathize and identify.
Young Adult Speculative Fiction
Dread Nation
by Justina Ireland
Balzer + Bray
In the 1880s, the world has been infested with shamblers — or zombies as we'd call them. Jane McKee is a young black woman attending school to become an Attendant, protecting rich white women from shamblers. A series of events and betrayals lands her in the unregulated and unprotected West. Full of action, suspense and humor, but with an underlying critique of racism, sexism, and zealotry, Dread Nation gives us an #ownvoices re-imagined history that no one will want to put down.
Mirage: A Novel
by Somaiya Daud
Flatiron Books
When Amani is kidnapped by the Vathek, the cruel conquerors of her moon, she learns that she is to serve as the body double for the hated half-Vathek princess Maram, perhaps to be assassinated in her place. Daud builds a fascinating Moroccan-inspired futuristic world around this irresistible hook, one where old-world poetry and glittering palaces exist alongside robots and space travel. Danger haunts Amani's every step as she becomes caught up in a plan to overthrow the Vathek rulers, even as her relationship with Maram, once purely antagonistic, gradually deepens. Mirage tackles the real-world issue of the evils of colonization and combines it with a high-stakes plot, rich character relationships, and stellar world-building to create a story that teens won't soon forget.
Not Even Bones (Market of Monsters)
by Rebecca Schaeffer
Houghton Mifflin Harcourt
Not Even Bones lives up to its hyped pitch as a cross between "Dexter" and "The Savage Song." In a world where humans traffic in fresh body parts of unnatural species, Nita's job is to dissect the bodies her mother brings her. When her mother brings home a live boy in a cage, however, Nita knows she has to save him. Nita has the most villainous mother in YA lit: when crossed, her punishment is worse than death. Nita fights for her freedom, but a surprise twist at the end blows up the entire book, setting the stage for book two. With page turning action and ghastly description, Not Even Bones is a YA masterpiece of horror! Kudos to Rebecca Schaeffer for the BAM! Epic twist that will leave teen readers reeling.
Pitch Dark
by Courtney Alameda
Feiwel & Friends
The premise of Pitch Dark is simple: a hacker terrorist takes control of the Conquistador, crashing the ship into the USS John Muir, a starship that has been lost in space for over four hundred years. The John Muir's inhabitants had woken up from a 400 year stasis about twenty-two months before that. Laura is blamed for the crash because unfortunately she had been hacking the system at the same time as an ecoterrorist, making her the perfect scapegoat for the Smithson family, who are trying to sabotage Laura's family's leadership (her mother is the captain). It's a fight for survival against the clock and monstrous creatures that kill with sound in the dark. We loved the big ideas, the world-building, the excitement and creep-factor Alameda presented in this #ownvoices science fiction/horror novel. Her protagonist Laura is Latina and will connect with teen readers as they read about her and Tuck trying to save the John Muir and everyone aboard ship.
Summer of Salt
by Katrina Leno
HarperTeen
This is one for readers who love magic in the real world. It's a family story, with two very different twin sisters figuring out how they fit together as they get ready to leave the island where they've lived all their lives to go to different colleges. It is a story of women with magical talents. It is a murder mystery, with a most unusual victim. It is a very sweet teen lesbian love story. It is also a sensitive story about rape and mass hysteria. These threads all combine to make a gripping page turner, that despite everything bad that happens, is very sweet and very magical.
Tess of the Road
by Rachel Hartman
Random House Books for Young Readers
Set in the same world as the author's earlier Seraphina, Tess of the Road follows seventeen-year-old Tess as she casts off her hyper-critical family and heads out on the road with only a small dragon companion, intent on finding the self she lost three years before. The novel moves between the past, slowly revealing the events that traumatized a fourteen-year-old Tess, and the present, as she confronts her memories, rediscovers her own strength, and slowly transforms from an angry, unhappy girl to one at peace with her past and looking forward to her future.
This Mortal Coil
by Emily Suvada
Simon Pulse
With a plot more twisty than a strand of DNA, and a terrifying apocalyptic world decimated by plague, This Mortal Coil keeps readers on the edge of their seats following Catarina Agatta, master gene hacker, as she races to code a cure with a soldier she doesn't trust. What if you could hack your own DNA? What if you could hack everyone's? Emily Suvada explores identity and free will in the best sci fi tradition in this fast-paced, mind-blowing adventure.
OTHER NOMINEES OF INTEREST
The Tea Dragon Society
by Katie O'Neill
Oni Press
Greta is training as a blacksmith—a dying art—when she rescues a tea dragon and discovers another tradition in danger of being lost: the care and tending of delicate little tea dragons, who grow tea leaves from their horns. Katie O'Neil's enchanting graphic novel features an endearing and diverse cast of characters rendered in charming illustrations and a lush color palette. This is a story about facing your fears, discovering your purpose, and dedicating yourself to your calling. And don't be surprised if you find yourself longing for your very own tea dragon by the end!
The Witch Boy
by Molly Knox Ostertag
GRAPHIX
Aster, a thirteen-year-old boy living in a secluded community with strict magical rules, longs to learn practices that are forbidden to boys. Rich, believable characters support this appealing tale of breaking free from traditional gender roles. Ostertag has created a fully-realized magical world that will leave middle-grade and teen readers clamoring for more.
In the Past: From Trilobites to Dinosaurs to Mammoths in More Than 500 Million Years
by David Elliott, illustrated by Matthew Trueman
Candlewick Press
Elliott pays tribute to prehistoric creatures with succinct poems filled with subtle humor. Both the subject matter and the humor will entice kids to open this book. The poems will leave them laughing while the facts at the end will send them on to learn more about the creatures.
Mary's Monster: Love, Madness, and How Mary Shelley Created Frankenstein
by Lita Judge
Roaring Brook Press
Mary's Monster is a gripping verse novel filled with imagery and emotion that draw readers into Mary Shelley's tragic life…and into her process for creating the most famous "creature" of British literature. Lita Judge's text perfectly captures the mood and atmosphere of Mary's turbulent world and times. Her book is an empathic portrayal of an independent, imaginative teenager who defied tradition, suffered great personal losses, and wrote the world's first science fiction novel.
Junior/Senior High Non-Fiction
Apollo 8: The Mission That Changed Everything
by Martin W. Sandler
Candlewick Press
1968 was a difficult year for the United States, but it ended with at least one bright spot—the successful mission to orbit the moon. 50 years later, Sandler expertly reveals the true tale of Apollo 8 from many important angles: the science and technology behind the mission, the lives of the individuals involved in making it happen, and the cultural and historical relevance of both the mission itself and its most iconic image, the Earthrise photograph. The gorgeous design and absorbing storytelling combine to offer something for every reader.
Spooked!: How a Radio Broadcast and The War of the Worlds Sparked the 1938 Invasion of America
by Gail Jarrow
Calkins Creek Books
Author Gail Jarrow reflects on how far hoaxes can undermine trust in legitimate sources in this exceptional history about the 1938 radio broadcast of a Martian invasion. Hoax aficionados will find the well-designed book both informational and engrossing reading. A nifty graphic spread reveals the level of audience outrage from excerpts of letters, postcards and telegrams CBS received following the radio broadcast. Published complete with timeline, a "More to Explore" section, source notes, selected bibliography and index.
[Via Locus Online.]