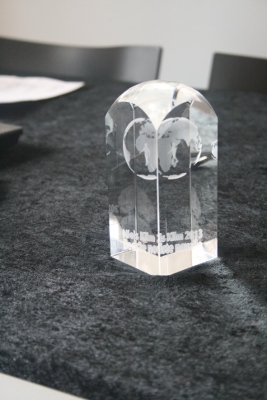 The winners of this year's Niels Klim Award were announced, and the trophies were presented in a ceremony at the annual Danish fantastika convention, Fantasticon, on September 23.
The prize, named for a character in Ludvig Holberg's Nicolai Klimii iter Subterraneum [1741], is given annually for short science fiction publish in Danish for the first time the previous year.
The winners are:
Translated
Novella
Novellette
Ogel i fare (Ogel in Danger), Carolineskolens 4. klasse (4th grade) 2016/17, Lurifaks
Short story
Verdens rigeste mand og hans tro tjener Boris (The Richest Man in the World and his Faithful Servant Boris), Chr. Winther, Smspress
The list of nominees, in Danish, has links to translated English-language quotes.
The award is presented annually after nomination and voting among Danish science fiction readers. This was the seventh time the prize was given out. The nominees this year are a varied group of writers, new and more established, Danish and foreign.
The four categories together cover shorter science fiction texts (less than 40,000 words) published in Danish for the first time the previous year.
The award administration is mostly handled by Lise Andreasen (member of Science Fiction Cirklen among other qualifications), and her blog is the primary information source about the Niels Klim Prisen.
[Thanks to Lise Andreasen for the story.]