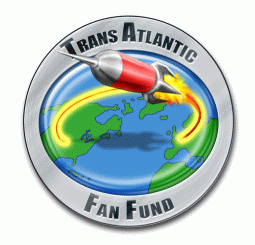 Voters can now register their choice for the 2018 Trans-Atlantic Fan Fund delegate from among candidates Johan Anglemark, Fia Karlsson, and Helena McCallum (Adela Terrell). The winner will travel from Europe to North America to attend next year's Worldcon in San Jose.
Voting in the 2018 race is open to anyone active in fandom before April 2016 who donates at least £3.00 (GBP) or $4.00 (USD) to TAFF.
Eligible fans may vote by mail (download the ballot from http://taff.org.uk/ and follow the instructions) or online at http://taff.org.uk/vote.php. Voting continues until Midnight (Eastern US time) Tuesday, April 3, 2018.
Here are the contenders' platforms:
I met fandom in 1983. Soon I was involved in con-running and I've never stopped; I'm on two concoms currently. I've attended all European Worldcons since 1990, but never one in America; I would love to do that through TAFF, and write a trip report. I'm co-administrator of the Swedish branch of the Nordic Fan Fund and the chair of the Alvar Appeltofft Memorial Foundation, a fannish charity. When not on staff, I flog used books at cons. I live with Linnéa in a house full of cats, games, vinyl records, and books, and earn my living as a tech writer.

Nominated by: (Europe) Caroline Mullan, Ron Gemmell, Eemeli Aro. (NA) Ulrika O'Brien, Diane Lacey
You can't spell FIAWOL without Fia! This wildling born north of the Arctic Circle came south bringing her friendly manners and passion for organizing with her. She lures you in with dill chips, but you stay for her genuineness.

She went from book-blogging to hosting a book circle, which grew into the fandom society in Malm?, Sweden. Fia has chaired two cons, worked as the Social Media Area Head for Worldcon 75, been adopted into the Finnish fandom, and was the 2017 Nordic Fan Fund delegate at Octocon in Dublin. She's now ready to Take on San Jose! Fia for TAFF!

Nominated by: (Europe) Jukka Halme, John-Henri Holmberg, Gareth Kavanagh. (NA) Lucy Huntzinger, Michael Lee.
Helena McCallum (Adela Terrell)
My name is Helena McCallum, originally from Scotland. In 2002 my partner left me at home to attend the San Jose Worldcon with his friend. Now, 16 years and 2 children later, I seek your assistance for revenge. It will also be just before my 40th birthday, which may come as a surprise to some who remember my first forays into fandom in the mid- 90s.

I was told people like me don't get to run for TAFF, so here I am. I'm friendly, out-going, and a fun person to have at a party, I'll bring a nice Whisky.

Nominated by: (Europe) Douglas Spencer, James Shields, Tammy Coxen, David O'Neill. (NA) Pablo Vasquez, Tracy Benton.
More information is available in TAFF News #2.
For comprehensive Trans-Atlantic Fan Fund information, visit Dave Langford's TAFF website here.
Update 12/05/17: TAFF co-administrator John Purcell has issued a ballot correction:
There was an error in placing one of Helena McCallum's nominators on the wrong continent: Tammy Coxen is an American, not a European, fan. Oops! Fortunately, David O'Neill had also nominated Helena since he is a European fan (David spends part of each year living in his home in the UK, and attends European events), so Tammy's name was replaced on the European side of the ballot with David's name as a nominator.

I apologize for the error: neither Anna Raftery (the European TAFF Administrator) nor I caught this initial mistake, so mea culpa. However, this was caught over the weekend, then everyone was notified of the slip-up and agreed to the fix, so now Helena has Tammy Coxen as a backup North American nominator.
[Thanks to Dave Langford and John Purcell for the story.]