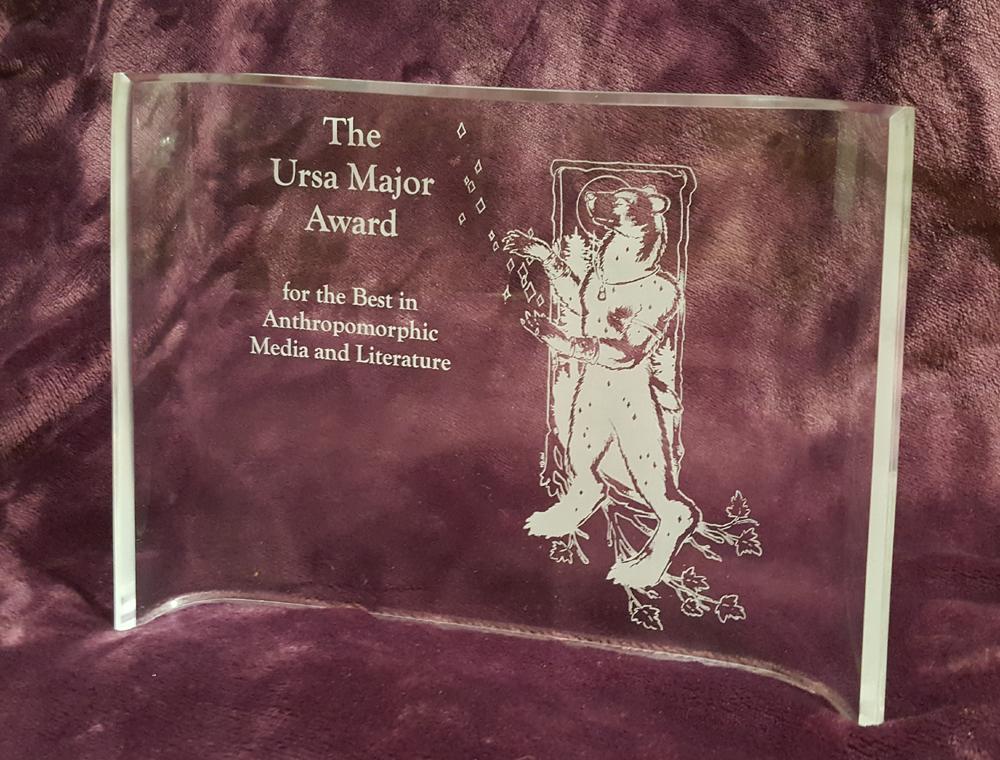 The winners of the 2018 Ursa Major Awards for excellence in the furry arts were announced at AnthrOhio on May 26.
Best Motion Picture
Live-action or animated feature-length movies.
Isle of Dogs (Directed by Wes Anderson; April 13)
Best Dramatic Series or Short Work
TV series or one-shots, advertisements or short videos.
Aggretsuko (Directed by Rarecho, episodes 1-10)
Best Novel
Written works of 40,000 words or more. Serialized novels qualify only for the year that the final chapter is published.
Small World, by Gre7g Luterman. (Thurston Howl Publications; April 23)
Best Short Fiction
Stories less than 40,000 words, poetry, and other short Written works.
Uri's Bitterweet Story, by Uranium 235. (CrossTime Cafe; December 9)
Best Other Literary Work
Story collections, comic collections, graphic novels, non-fiction works, and serialized online stories.
What the Fox!, edited by Fred Patten. (Thurston Howl Publications; March 6) both trade paperback and deluxe editions
Best Non-Fiction Work
Includes documentaries, opinion pieces, and news articles.
Furries | Down the Rabbit Hole (Created by Fredrik Knudsen, August 13)
Best Graphic Story
Includes comic books, and serialized online stories.
Lackadaisy, by Tracy J. Butler (internet; Lackadaisy Liaison to Lackadaisy Overdrive)
Best Comic Strip
Newspaper-style strips, including those with ongoing arcs.
Carry On, by Kathy Garrison Kellogg (Internet; January 1 to December 31)
Best Magazine
Edited collections of creative and/or informational works by various people, professional or amateur, published in print or online in written, pictorial or audio-visual form.
Culturally F'd (YouTube videos, Sonic OC Rusty Knucklesfur to Fursuit History Part 5: Cosplay)
Best Published Illustration
Illustrations for books, magazines, convention program books, cover art for such, coffee-table portfolios.
Caraid, Pirates!, website header for Furry Weekend Atlanta 2019, April 12
Best Game
Computer or console games, role-playing games, board games.
Deltarune: Chapter 1 (Developer: Toby Fox, October 31)
Best Website
Online collections of art, stories, and other creative and/or informational works. Includes galleries, story archives, directories, blogs, and personal sites.
e621.net (art, discussions, etc.)
Best Fursuit
Anthropomorphic costumes.
SonicFox, worn at Esports Award. Costume by Yamishizen/Fursuit Enterprise.