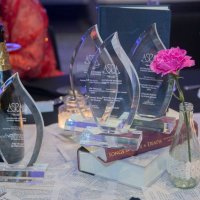 The 2019 Australian Romance Readers Awards were presented March 7 in Sydney.
The winners in the categories of genre interest were:
Favourite Paranormal Romance 2019
Wolf Rain by Nalini Singh
Favourite Sci Fi, Fantasy or Futuristic Romance 2019
Wicked Wings by Keri Arthur
The rest of the winners were —
MEMBERS' CHOICE AWARDS
Favourite small-town romance 2019
The Trouble with Christmas by Amy Andrews.
Favourite couple in a 2019 romance
Memory and Alexei in Wolf Rain by Nalini Singh.
Favourite 2019 romance cover
MAIN CATEGORIES
Favourite Historical Romance 2019
Marry in Secret by Anne Gracie.
Favourite Contemporary Romance 2019
Favourite Short or Category Romance 2019
Loving Lucas by Jayne Kingsley.
Favourite Romantic Suspense 2019
Shadows Over Wongan Creek by Juanita Kees.
Favourite Continuing Romance Series 2019
The Charley Davidson series by Darynda Jones.
Favourite Debut Romance Author of 2019
Samantha Marshall. This award was sponsored by Booktopia.
Favourite Australian Romance Author 2019
Kylie Scott. This award was sponsored by Booktopia.