The 2019 winners of the Cybils Awards (Children's and Young Adults Bloggers' Literary Awards) were announced on February 14.
The Cybils Awards aims to recognize the children's and young adult authors and illustrators whose books combine the highest literary merit and popular appeal. If some la-di-dah awards can be compared to brussels sprouts, and other, more populist ones to gummy bears, we're thinking more like organic chicken nuggets. We're yummy and nutritious.
Here are the results from the speculative fiction categories, plus another winner of genre interest, and the citations explaining why the judges liked these books.
Elementary/Middle-Grade Speculative Fiction
Tristan Strong Punches a Hole in the Sky by Kwame Mbalia
Tristan Strong Punches a Hole in the Sky is an epic adventure that melds African and African American folklore in a riveting fantasy about the power of stories. Tristan, an African American seventh grader, has lost his best friend and is spending the summer down South with his grandparents. There he is transported to an otherworldly land, where he gradually realizes that familiar African-American and African stories are real here, and powerful, and their characters are hurtling toward a cataclysm.  Tristan must accept that he is a hero, while working through his grief and guilt, in this powerful adventure full of twists and turns. Told in rich cinematic detail with beautiful attention to dialogue, a great cast of supporting characters, and with welcome comic relief lightening the weighty mood, Tristan Strong Punches a Hole in the Sky is an important book that will be embraced by young readers.
Young Adult Speculative Fiction
Fireborne (THE AURELIAN CYCLE) by Rosaria Munda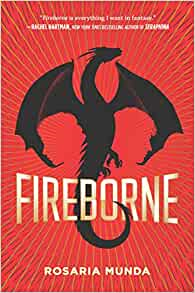 Rosaria Munda says three things inspired Fireborne: The French Revolution, Plato's Republic, and the Blitz of London—plus the thought, "What if the bombers were fire-breathing dragons?"

Fireborne takes everything you might love about dragon-riders, revolution against a corrupt regime, and the loyalty of friends fighting for a common cause, and twists it sideways to create an emotionally intense, unpredictable story, by equal turns thought-provoking and edge-of-your-seat exciting. The revolution has happened; the "good guys" won: but are they really the good guys? Is the new society they created worth the atrocities they committed?

The tensions and opposing philosophies of the revolution are brilliantly captured in the two main characters. Lee was the son of an aristocrat. His family was brutally executed, and he grew up in an orphanage pretending to be a peasant. His best friend in the orphanage was Annie, a peasant whose whole family was killed by an aristocrat's dragonfire. Now they are both dragonriders, competing to be the next leaders of the new republic. Threats from inside and outside make them question their beliefs, their loyalties, their friendship. Annie, Lee and their friends' dilemmas are heartbreakingly believable and drive a compelling, endlessly interesting plot.

All five judges were blown away repeatedly by the beautiful writing, rip-roaring plot, believable character development, and window into society issues. We loved the slow-burn romance, the strong female characters, the high emotions and the depths of the ideas.

Amid a powerful and diverse slate of finalists, Fireborne rose to the top with its page-turning depiction of a dragon-filled, believably complex post-revolutionary world.
Easy Readers
Yasmin the Superhero by Saadia Faruqi, illustrated by Hatem Aly
When spunky Yasmin dons her cape and mask and heads out to defeat evil villains, she discovers that true heroes are those who help others. Written in three chapters, Yasmin the Superhero, celebrates family, diversity, and kindness with humor perfect for young readers. The bright and joyful illustrations have definite kid appeal and help to introduce a culture not often represented in children's books. As an added bonus, Urdu vocabulary with definitions and introductory facts about Pakistan are included.