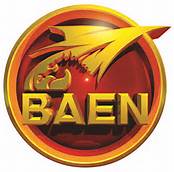 The top ten finalists for the 2020 Baen Fantasy Adventure Award were announced July 1.
"A Hole in the Gut" by M. T. Kadisin
"From Darkest Depths" by Sean CW Korsgaard
"Gently They Took What Was Hers" by Amanda J. Lee
"Hero" by L.R. Braden
"Humanslayer" by Scott Huggins
"Seidh" by Morgan Welch
"The Chilling Account of The Wolf-Bann of Krallenburg" by J. E. Tabor
"The Power" by Stephen Lawson
"The Strength of Summer Storms" by Evey Brett
"Who Will Know?" by Scott R. Parkin
Due to the cancellation of NASFIC and the ongoing uncertainty caused by the COVID-19 virus, the top three winners will be revealed at the beginning of the Baen Virtual Roadshow in early August, broadcast live on Baen's Facebook page.