The 2020 FAAn Awards ballot is available at Corflu.org. Voting is open until February 13, 2020.
Corflu chair John Purcell said in Progress Report #3 —
Anyone who is interested in science fiction fandom and its fanzines is welcome to vote for in the FAAns, and there is no fee involved! Even better. So there is no reason not to vote. The best way to vote in most of these categories is to peruse good, old www.efanzines.com and review the fanzines published in 2019.
The winners will be announced at Corflu 37 in College Station, TX on March 15, 2020.
These are the award categories:
Best Over-all Fanzine. Vote for the fanzine of your choice, regardless of the subcategory to which it belongs. You may also vote for the same fanzine in one subcategory.

Best Genzine. A fanzine that normally contains a significant amount of information by multiple authors and contributors other than the editor.

 Best Personal Zine. A fanzine primarily written by a single person, typically shorter in length and often-times more frequent in publication.

Best Whatchamacallit Zine: This is a fanzine published during 2019 in an APA (Amateur Press Association), as a newszine, clubzine, or is about a special interest (comics, filking, gaming, cosplay, pulps, etc.). This is a catch-all category for fanzines that don't fall into any of the above named primary award categories.

Best Special Publication. A publication (produced during 2019) that is usually bigger and fancier and more special than a typical fanzine. TAFF reports and fanthologies certainly qualify, but this is a big field. NOTE: A special publication is typically a one-shot, but it can also be a numbered issue of a fanzine distinct from the regular issues. [Examples: Warhoon 28 (special Walt Willis issue); Thy Life's a Miracle (Randy Byers collection); The Trans-Atlantic Hearing Aid.]

Best Fan Writer. A writer whose work appeared in an eligible (published in 2019) genzine, perzine, or special publication. NOTE: Fan writers can work in both print and online media.

Best Letterhack. A writer of letters of comment published in fanzines that appeared during 2019 (a.k.a., the Harry Warner, Jr. Award for Best Letterhack). 

Best Online Achievement:  On-line fannish activity committed during 2019 can include hosting archives, running news sites, participating or leading groups and lists, blogging, and general online presence.

Best Fan Artist: An artist whose work appeared in an eligible (published in 2019)  genzine, perzine, or special publication. This includes work both in print and online fan publications. 

Best Fanzine Cover Art:  Best fanzine cover published during the year 2019. A gallery will be available at efanzines.com. 

#1 Fan Face: This is a cumulative award based on the number of times a fan is mentioned in one way, shape, or form in any of the above listed categories.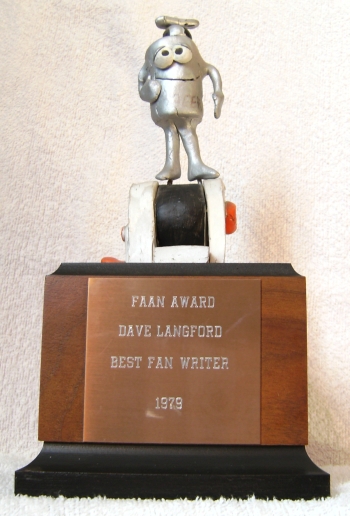 [Via 2019 FAAn Award-winning Ansible!]