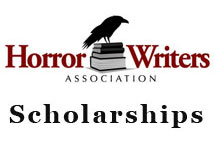 The Horror Writers Association announced their 2020 Scholarship recipients on September 3.
The scholarship, open to all horror writers (HWA membership is not required), is worth $2500, which may be spent on approved writing education over the two years following the granting of the scholarship.
The winner is Matthew Andrew.
Matthew Andrew is a retired U.S. Marine who served multiple tours in support of combat operations in Afghanistan and the Balkans.

He currently works in the finance sector in Dallas, TX. His short fiction can be found in Pantheon Magazine, Blight Digest, PMMP's Lost Signals anthology, & Thuglit, among others.
This scholarship, worth $2,500, is open to female horror writers. It may be spent on approved writing education over the two years following the granting of the scholarship.
The winner is Abril Altamirano.
Abril Altamirano is a cultural journalist & horror writer from Quito, Ecuador. Her work has been published in Ecuadorian printed media such as Diario La Hora, Casapalabras, & MundoDiners, as well as in international magazines Visor (Spain) and Espora (Mexico). She coedited the book Despertar de la hydra, antología del nuevo cuento ecuatoriano (The hydra awakens, anthology of new Ecuadorian short stories). Her story, "Hands tied," is included in the anthology Señorita Satán, nuevas narradoras ecuatorianas, (Miss Satan, new Ecuadorian female narrators; 2017) and her story, "Hatching," was a finalist in the first PEN Center Ecuador Short Story Contest 2020.
The late Rocky Wood, then HWA President, explained why the scholarship was created in 2014.
It is very clear to the HWA that there are unseen, but real, barriers limiting the amount of horror fiction being published by women. There are many fine women writers being published in our genre but we also see potential for the percentage of horror fiction being published by women to increase. This Scholarship, named after the great female horror writer, aims to encourage more female writers to enter our genre and to aid in the development of those already working within it. At the same time the HWA exists to extend the horror genre in all its aspects, so we are also establishing Horror Writers Association Scholarship, which is open to all our members, regardless of gender.
The Dark Poetry Scholarship, first awarded in 2015, is designed to assist in the professional development of Horror and/or Dark Fantasy Poets. It is worth $1,250, which may be spent on approved writing education over the two years following the granting of the scholarship.
The winner is Manny Blacksher.
Manny Blacksher, a life-long enthusiast of ghost stories and horror, grew up in Mobile, Alabama, a city that novelist Eugene Walter epitomized as "sweet lunacy's county seat." He studied six years at McGill University in Montreal, then returned to teach English at one of Alabama's venerable historically black state universities. He also he earned a master's degree in history at Trinity College, Dublin. His works have appeared in numerous publications, including Poetry Ireland Review, Books Ireland, The Guardian's Online Poetry Workshop, Measure, Unsplendid, Works & Days, and The Maynard. He was Poetry Editor of Light: A Journal of Photography and Poetry.
The Dennis Etchison Young Writers scholarship is open to students in grades 10-12 (or the equivalent, if home schooled), with an interest in writing horror/dark fiction. The winner may apply the $500 toward college tuition, course fees (on line or traditional), and/or materials pertaining to the enhancement of writing skills.
The winner was not named publicly —
We also had a winner for the Dennis Etchison Young Writers Award, but due to the winner being a minor, their name and likeness will be unreleased due to privacy laws.