The 2021 nominees for the Australian Fairy Tale Society Annual Award for Inspiration and Contribution to Australian Fairy Tale Culture" are Jo Henwood, Louisa John-Krol, Serene Conneeley, and Spike Deane.. Voting is open to AFTS members only.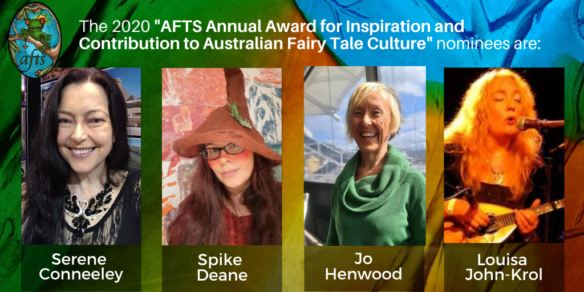 Here are some of the things mentioned by their nominators:
~ Her knowledge of Australian fairy tales and ability to weave and tell a tale, modify a tale to add an Australian essence and encourage all to participate in fairy-rings is totally amazing!
Louisa served on the AFTS committee of management for many years, including her time as President, and founded the Victorian Fairy Tale Ring. She not only organised and/or performed in several AFTS conferences and seminars but also pushed for funding in areas that continue to bear fruit for the fairytale community, and introduced a lot of members to each other, stimulated intercultural dialogue (e.g. hiring a storyteller from Singapore as Keynote), and fostering interstate collaborations across disciplines (writing, music, visual art) that nourished the anthology as well as other productions.
During the 1990s, Wonderwings Fairy Shop employed her as a storyteller. The first fairy shop-venue in the world, it led Louisa to further gigs at its spinoff Wonderwings Fairground and other fairy shops, plus the Royal Melbourne Show with Education Victoria & Information Victoria, also Moomba, Lit Fest (Arts Victoria/Vic Arts Centre), Childrens Book Week (Royal Botanical Gardens), International Feminist Book Fair (Royal Exhibition Buildings), National Trust heritage sites Rippon Lea & Como House, and other venues. 
The Monash Fairy Tale Salon was another of Louisa's Australian involvements, prior to and overlapping with the formation of Australian Fairy Tale Society. She encouraged MFTS members to also join AFTS and provided a lot of assistance, performing in 'An Afternoon in Fairyland' at the Sir Louis Matheson Library, Monash University (Rare Books Collection) 2013, The Glen Eira Storytelling Festival 2014, and again in 2015 for the 150th Anniversary of Alice's Adventures in Wonderland.

~ As well as the big gestures of support, there are many small acts of kindness that enrich the lives of our community. Louisa takes many fairies under her wing, purchasing train tickets for travel, meeting and introducing them to others, and helping people with their English in the academic realm and fairy tale activities.

~ Out of anyone I've ever met, Louisa is the truest of fairy godmothers
Serene is also a remarkable Committee member. She is responsible for the launch of the AFTS merchandise, investing enormous quantities of time in research to decide on Redbubble as the best platform, and basing her decision on AFTS values of sustainability, local investment, and responsible use of our funds.
~ Because of her books, many more people understand the layers of fairy tales.
~ Her glass art has interpreted fairy tale motifs through an unusual medium to be known and enjoyed by many.