The 2021 Prix Imaginales winners were announced on May 28.
The Prix Imaginales recognize the best works of fantasy of the year published in France in six categories, with a prize of 1,000 euros for the first five categories and 500 euros for the last two. There is an additional category for comics.
[NOTE: The Prix Imaginales is a different award than the Grand Prix de l'Imaginaire.]
Catégorie roman francophone / French novel
Thecel, by Léo HENRY, éd. Folio SF
Catégorie roman étranger traduit / Foreign Novel translated into French
Kra, by John CROWLEY, Patrick COUTON (translator), éd. L'Atalante
Catégorie jeunesse / Youth category
Akata Witch, by Nnedi OKORAFOR, Anne COHEN-BEUCHER (translator), éd. L'École des Loisirs
Catégorie illustration / Illustration
Cahier de croquis du Hobbit, Alan Lee, (illustrator),éd. Christian Bourgois
Catégorie nouvelle / Short Story
Bienvenue à Sturkeyville, de Bob LEMAN, Nathalie SERVAL (translator), éd. Scylla
Catégorie prix spécial du Jury / Special Jury Award
La grande aventure du jeu de rôle, toute l'histoire des origines à nos jours, by Julien PIROU, Ynnis éditions
Catégorie album / Album Category
Balbuzar, by Frédéric PILLOT (illustrator) et Gérard MONCOMBLE (author), éd. Daniel Maghen
A jury composed of critics, journalists and specialists selected the literary nominees: Jacques Grasser (President), Stéphane Wieser (Director of the Festival), Victor Battaggion, deputy editor of Historia, Lloyd Chéry, Christophe de Jerphanion, Frédérique Roussel, and Natacha Vas-Deyres.
Prix Imaginales de la bande dessinée / Comics
Première Née (Les Ogres-Dieux, t.4), by Hubert and Bertrand Gatignol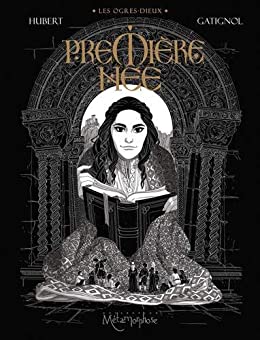 The jury for the Comics prize is: Jacques Grasser (President, Deputy Mayor of the Town of Épinal), Élisa Amblard (Izneo marketing manager), Frédéric Bosser (Director of DBD Magazine), Hubert Prolongeau, (Télérama), Olivier Souillé (Galerie Daniel Maghen), Laurent Vissière (Historia Bd), and Stéphane Wieser (Director of Imaginales)