The Dream Foundry's contests for emerging writers and artists will be open to submissions from August 8 through October 8. There are no fees to submit.
The mission of The Dream Foundry is "to bolster and sustain the nascent careers of professionals working in the field of speculative literature."
The contests are for writers and artists who are relatively new to paid or incoming-earning illustration work or publication of speculative short fiction in English. Past winners have gone on to have their work published and attain full time professional roles in their field.
The full rules and details regarding the contests, including links to submit and full profiles on the judges, are available here:
Prizes for each contest are $1000 for first place, $500 for second place, and $200 for third place.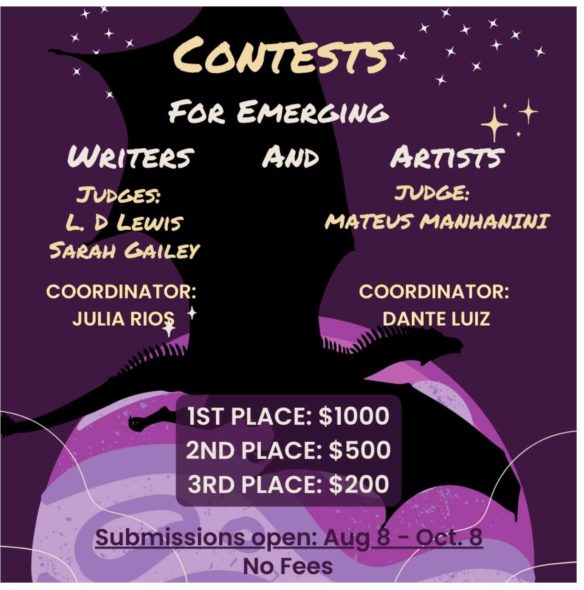 ART CONTEST. The first place prize for the Art Contest is the Monu Bose Memorial Prize for Art. Winners are also showcased and offered workshop and portfolio review opportunities at Flights of Foundry, a global virtual convention that brings together professionals from across the industry.
Every year The Dream Foundry contest coordinators select ten finalists for each contest from a pool of submissions from artists and writers around the world. Then the judges choose three winners for each contest.
This year the art contest coordinator is Dante Luiz, art director for Ignyte-winning Strange Horizons Magazine. The judges for the art contest are Mateus Manhanini and Daniela Viçoso. Mateus Manhanini is a digital illustrator and comic colorist from Brazil whose clients include Marvel Comics, Wizards Of The Coast, and DC Comics. Daniela Viçoso Daniela Viçoso is an Algarvian artist whose one-shot Erasmus song was awarded one of the bronze awards at the 13th edition of the Japan International Manga Award (2020).
WRITING CONTEST. The writing contest coordinator this year is Julia Rios, whose editing work has won multiple awards, including the Hugo. The judges for the writing contest are L.D. Lewis and Sarah Gailey. L.D. Lewis is an award-winning SF/F writer and editor, publisher at Fireside Fiction, and founding creator, Art Director, and Project Manager for the World Fantasy Award-winning and Hugo Award-nominated FIYAH Literary Magazine. Sarah Gailey is a Hugo Award winning author of speculative fiction, short stories, and essays. They have been a finalist for the Hugo, Nebula, and Locus awards for multiple years running.