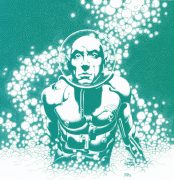 The winners of the 2022 Grand Prix de l'Imaginaire were announced today.
The jurors for the award were Joëlle Wintrebert (president), Jean-Luc Rivera (vice-president), Nicolas Winter (deputy), Jean-Claude Dunyach (treasurer), Sylvie Allouche, François Angelier, Audrey Burki, Olivier Legendre, Sylvie Le Jemtel. The Secretary (not a member of the jury) is Pascal Patoz.
The awards will be presented during the Étonnants Voyageurs festival in Saint-Malo, France to be held June 4-6.
ROMAN FRANCOPHONE / NOVEL IN FRENCH
Vivonne by Jérôme Leroy (La Table ronde)
ROMAN ÉTRANGER / FOREIGN NOVEL
Notre part de nuit by Mariana Enriquez (Le Sous-sol) [translated from the Spanish Nuestra parte de noche]
NOUVELLE FRANCOPHONE / SHORT FICTION IN FRENCH
Plasmas by Céline Minard ([collection] Rivages)
NOUVELLE ÉTRANGÈRE / FOREIGN SHORT FICTION
Tous les noms qu' ils donnaient à Dieu by Anjali Sachdeva (Albin Michel) [All the Names They Used for God (collection)]
ROMAN JEUNESSE FRANCOPHONE / NOVELS FOR YOUTH IN FRENCH
Prospérine Virgule-Point et la Phrase sans fin by Laure Dargelos (Rivka)
ROMAN JEUNESSE ÉTRANGER / FOREIGN NOVELS FOR YOUTH
Les Guerriers orphelins by Lian Hearn (Gallimard jeunesse) [Tales of the Otori]
TRADUCTION : PRIX JACQUES CHAMBON / JACQUES CHAMBON TRANSLATION PRIZE
Mathilde Montier for Les Tambours du Dieu noir et Ring Shout by P. Djèlí Clark (L'Atalante) [The Black God's Drums and Ring Shout]
GRAPHISME : PRIX WOJTEK SIUDMAK / WOJTEK SIUDMAK GRAPHIC DESIGN PRIZE
Elena Vieillard for Citadins de demain by Claire Duvivier et Le Sang de la Cité by Guillaume Chamanadjian (Aux forges de Vulcain)
ESSAI / NONFICTION
La Pulpe et la Moëlle (préface) by Serge Lehman (in Maîtres du vertige, L'Arbre vengeur)
PRIX SPÉCIAL
Alain Sprauel "for his meticulous and tireless work as bibliographer of the Imaginary, and in particular for La bibliographie 2021 de Stephen King"
[Thanks to the amazing JJ for title identifications and translations.]