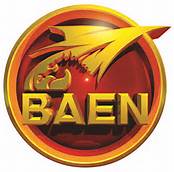 Baen Books, in partnership with the National Space Society, has announced the 2022 finalists for the Jim Baen Memorial Short Story Award.
First launched in 2007, for the past 15 years the Jim Baen Memorial Award has been awarded to realistic hard science fiction about what can be achieved in space exploration in the next few decades, ranging from the colonization of Mars to asteroid mining, with a focus on hard science and optimism.
"The National Space Society and Baen Books applaud the role that science fiction plays in advancing real science and have teamed up to sponsor this short fiction contest in memory of Jim Baen, the founder of Baen Books," said William Ledbetter, contest administrator. "It's a wonderful opportunity for the winner to meet scientists and space advocates from around the world."
The finalists for the 2022 Jim Baen Memorial Short Story Award are:
Mike Adamson (Australia)
Gustavo Bondoni (Argentina)
Deborah L. Davitt (Texas, USA)
Amanda Dier (Florida, USA)
Harry Lang (Pennsylvania, USA)
Elaine Midcoh (Florida, USA)
Avery Parks (Texas, USA)
J. Russell (Alabama, USA)
Pierre-Alexandre Sicart (Taiwan)
Wole Talabi (Malaysia)
Brad Zeiger (Oregon, USA)
Judges for the award were author and space scientist Les Johnson, and the editorial staff of Baen Books, and entries were judged anonymously. The contest occurs annually and looks for stories that demonstrate the positive aspects of space exploration and discovery.
This year's winner will be honored at the 2022 International Space Development Conference, in Arlington, VA, May 27-29, 2022. In addition to the award, the winning story will be published at Baen.com, paid professional rates, and the author will receive membership in the National Space Society.
[Based on a press release.]