The Libertarian Futurist Society has announced the Best Novel and Hall of Fame for Best Classic Fiction Prometheus Award winners for 2022.
PROMETHEUS AWARD FOR BEST NOVEL. Rich Man's Sky by Wil McCarthy (Baen Books), has won the 2022 Prometheus Award for Best Novel for novels published in 2021.
The citation says:
McCarthy's imaginative sf adventure explores human expansion throughout the solar system, propelled by four billionaires, in a suspenseful mosaic of epic conflicts and maneuvers between governments and markets and among politicians, soldiers, spies and entrepreneurs.

As a secret government team of elite military women infiltrate and aim to violently undercut the billionaires' visionary space projects before they change the world for good or ill, some of the super-rich "Four Horseman" are revealed to be admirable, and some decidedly not. Yet McCarthy makes all four real and human as they spearhead game-changing private-enterprise efforts that governments aren't able or willing to do.

This Heinlein-esque tale of State-threatened market innovations persuasively counters stereotypes from what free-market economist Ludwig von Mises dubbed "the anti-capitalist mentality."
The other 2022 Best Novel finalists were Between Home and Ruin and Seize What's Held Dear by Karl K. Gallagher (Kelt Haven Press); Klara and the Sun by Kazuo Ishiguro; and Should We Stay or Should We Go by Lionel Shriver (Harper Collins).
THE PROMETHEUS HALL OF FAME FOR BEST CLASSIC FICTION. Citizen of the Galaxy, a Robert Heinlein novel, won the 2022 Best Classic Fiction award and will be inducted into the Prometheus Hall of Fame.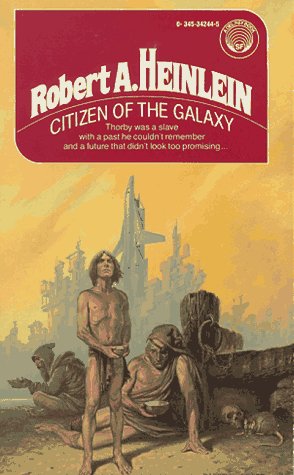 The citation says:
Arguably the best of his "juveniles," Heinlein's 1957 novel strongly dramatizes an anti-slavery theme while exploring the meaning of freedom and defending the right to use force in self-defense. The epic, planet-hopping saga revolves about a young man's coming of age amid repeated displacement into new societies and situations (including one intriguing libertarian group of Free Traders) in a rich and complex interstellar future.
The other Prometheus Hall of Fame finalists were That Hideous Strength, a 1945 novel by C.S. Lewis; Circus World, a 1981 collection of linked stories by Barry B. Longyear; and "The Trees," a 1978 song by the rock group Rush.
AWARDS CEREMONY. The 42nd annual Prometheus Awards will be presented online in late August (on a weekend date tba) in a Zoom awards ceremony. Prometheus-winning authors Travis Corcoran and F. Paul Wilson will serve as presenters.

PROMETHEUS AWARDS HISTORY. The Prometheus Awards, sponsored by the Libertarian Futurist Society (LFS), was first presented in 1979, making it one of the most enduring awards after the Nebula and Hugo awards, and one of the oldest fan-based awards currently in sf.
In the words of the LFS:
The Prometheus Awards recognize outstanding works of science fiction and fantasy that dramatize the perennial conflict between liberty and power and champion cooperation over coercion as the root of civility and social harmony. Such works may critique or satirize authoritarian trends, expose abuses of power by the institutionalized coercion of the State, imagine what forms a fully free society might take, and/or uphold individual rights and freedom for all as the only moral and practical foundation for peace, prosperity, progress and justice. 
The Best Novel winner receives a plaque with a one-ounce gold coin, and the Hall of Fame winner a plaque with a smaller gold coin.