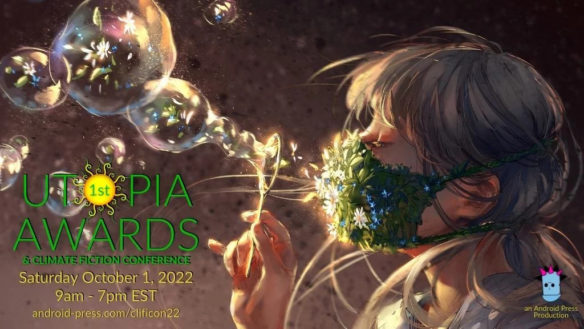 The nominees for the inaugural Utopia Awards, to be given in connection with The Climate Fiction Conference (#CliFiCon22), were announced on June 6.
Public voting for the 2022 Utopia Awards will take place from August 1 – August 21.
The Utopia Award Ceremony will take place on October 1, 2022 during the virtual conference.
The links lead either to places where the works are available free, or to where they can be purchased.
UTOPIAN NOVELLA
UTOPIAN NOVELETTE
UTOPIAN ANTHOLOGY/COLLECTION
UTOPIAN SHORT STORY
UTOPIAN POEM
UTOPIAN ART
UTOPIAN NONFICTION
UTOPIAN CURATOR