"The future is already here. It's just not very evenly distributed." – William Gibson
By Rich Lynch: Let me tell you about my favorite building in Washington, D.C. It's the staid old Arts and Industries Building, the second-oldest of all the Smithsonian Institution buildings, which dates back to the very early 1880s and owes its existence to the Smithsonian's then urgent need for a place where parts of its collection could go on public display. Its first event was the inauguration ball for President James Garfield but once it officially opened to the public it has hosted a multitude of exhibitions and displays on the arts, industry, and the sciences. It was the place where dinosaur fossils and the Smithsonian's extensive gems and minerals collection were displayed until the National Museum of Natural History was constructed in the early 1900s. It was the place where cultural and social items preserved throughout the existence of the United States were displayed until the National Museum of American History was constructed in the early 1960s. And it was the place where historic aircraft and spacecraft were on display until the National Air and Space Museum was constructed in the middle of the 1970s. But that's not why it's my favorite D.C. structure – I greatly admire it because of its design and appearance.
It was an architectural creation of Adolf Cluss, a prolific German-born immigrant who specialized in the design of churches and markets. The Arts and Industries Building contains elements of both: a four-cloistered cathedral-like cross-section with a central rotunda, and three-story-tall interior pavilions with a roof supported by iron trusses. But it's the exterior of the building that makes it special, with all its spires and geometrically-pattered brick façades. It's an iconic structure which has rightfully been designated as a National Historic Landmark. But for the past three decades of its existence, it has been in disrepair.
So much so that it was closed down in 2004 for stopgap architectural stabilization which, due to limited funding, took more than ten years to complete. But even after that was wrapped up the building has seen only sporadic use, and it's scheduled to close indefinitely for major renovations starting in the second half of 2022. But until then it's host to a special exhibition, one that Nicki and I had very much wanted to see. It was all about the future.
Or make that 'Futures'.  Depending on one's outlook there are many possible futures, and this exhibition is a noble and ambitious attempt to explore some of them.  The Smithsonian's website describes it as: "Part exhibition, part festival, [with] nearly 32,000 square feet of new immersive site-specific art installations, interactives, working experiments, inventions, speculative designs, and 'artifacts of the future'."  There was quite a bit to take in, easily enough to fill the entire building with the each of the four cloisters having a different focus: 'Futures that Unite', 'Futures that Inspire', 'Futures that Work', and 'Futures Past'.  What immediately grabbed our attention was the 'Inspirational' one because it provided an answer to the question that all science fiction fans inevitably ask at some point in their lives: "Where's my flying car?"  It was right there in plain view!
It's a prototype concept vehicle, the 'Nexus', built by Bell Textron (the same company that 75 years ago developed the experimental X-1 aircraft that propelled Chuck Yeager beyond the speed of sound), and the 'Futures' exhibition is its first D.C.-area public showing. It was actually developed to be an air taxi, not a private car that flies, and that seems appropriate since it's entirely battery-powered – there's no telling how long it would take to recharge that thing at home using wall socket power. And even if that was actually feasible, where would you park the thing? Nicki dryly commented that: "I don't think it would fit in our garage." To say the least!
There was much more in the 'Futures that Inspire' wing of the exhibition than just the flying car. The overall intent (according the Smithsonian's website) was to "…encourage you to think adventurously about what might lie ahead. In the brave world of the future, what seems impossible today may become totally commonplace tomorrow." And to that end there was lots of interesting stuff, such as the immersive virtual reality installation "ReWildAR" by media artist Tamiko Thiel which remade that part of the building into a rural meadow with dozens of virtual wildflowers and insects. There was even some superhero presence – Marvel Studios had loaned the exhibition the costumes from The Eternals movie under the guise that: "Five original costumes showcase how evolutions in storytelling and cinema technologies can illustrate new futures in incredible ways." I guess I'll have to take their word on that.
The other three parts of the exhibition, while perhaps somewhat less visually impressive, were just as interesting from a forward-looking perspective. The centerpiece of 'Futures that Unite' was a detailed display on the concept of 'Citizen Science', where basically any interested individual with a computer and fast Internet access can contribute to the world's knowledge base by helping to sift through huge amounts of data from various scientific endeavors that's been collected and archived over the years. Or, for some projects, add to the amount of useful data that exists. This was the most obvious manifestation of the 'Unite' wing of the exhibition, as it exemplified the overall theme to: "Explore new ways to connect and collaborate that all aim for the same goal: to tap into our collective humanity." But, as we observed, there were also other ways to epitomize that theme. One of them was showcasing a topic that's near and dear to the hearts of many current-day science fiction fans: Afrofuturism, which the Smithsonian accurately describes as being how "…the cultures of the African diaspora are seen through the lens of science fiction". For that there was a prominent though a bit understated display which honored the person who has been credited with the literary concept of Afrofuturism: the late Octavia Butler.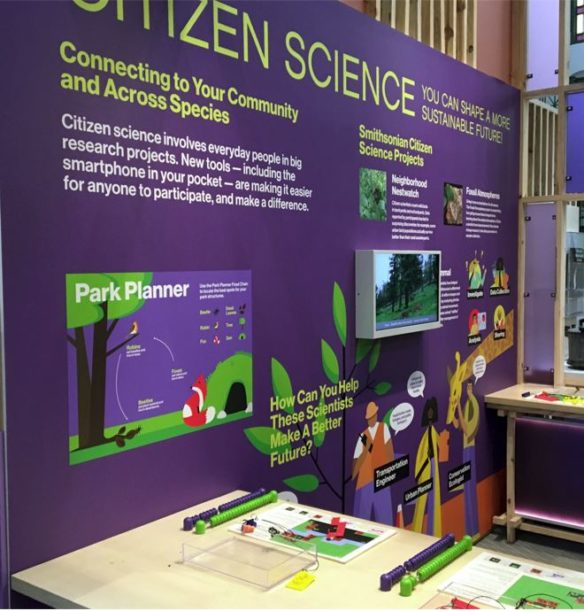 The display consisted of only a few items, the most colorful being a really nice large-panel work by artist Nettrice Gaskins using a computer program that utilizes AI to generate detailed and complex images. It was inspired by Butler's Parable of the Sower novel and includes, among other images, a depiction of Butler's typewriter. And not to be outdone, that same typewriter was also an integral part of the display. Overall, it was a praiseworthy tribute to a groundbreaking author.
The 'Futures that Work' wing of the exhibition had as its main display piece another corporate construct, one which has gotten a lot of press in the past few years – a transport pod for the proposed Virgin Hyperloop.  This was originally envisioned as a very high-speed magnetically-levitated underground transport, initially conceived as a people-mover but recently (and more realistically) re-imagined as a cargo transport.  Besides that there were a lot of eco-friendly ideas being showcased, all of them innovative and a few (like the egg-shaped pod which eventually converts a corpse into a tree) a bit out on the fringe.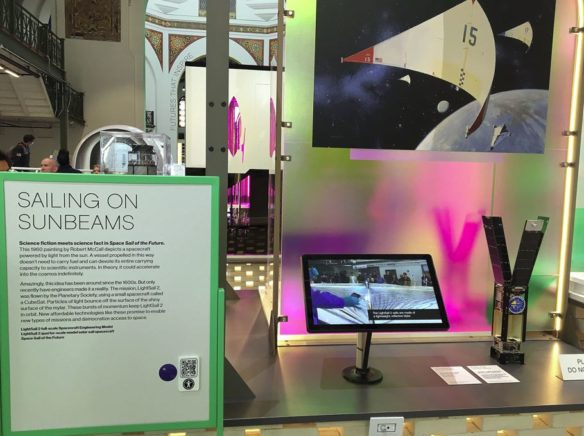 But my favorite part of 'Futures that Work' was the 'Sailing on Sunbeams' display which advanced the concept of light sails as a means of space propulsion.  It had caught my attention because it featured a reproduction of the 1960 painting of a science-fictional solar sail by the great Robert McCall, whose artwork has in past years been a part of many space-related ventures – everything from postage stamps to NASA mission patches to movie posters to large murals (including a famous one just inside the south entrance of the Smithsonian's Air and Space Museum).  But I don't think I'd ever seen this "Solar Sails of the Future" painting before, even though the original is owned by the Smithsonian.  It was a nice bit of retro-future.
There was more retro-future in the last of the four focal areas, 'Futures Past'. A big display case contained posters and historical objects from long-ago World Fairs and Expositions. Back then, a common World's Fair theme was to attempt to portray the so-called 'world of tomorrow', which as it turned out none of them were really able to do. But on the other hand, maybe one of them actually did, in a synchronistic way. Some of ticket proceeds from the 1876 Centennial Exposition in Philadelphia, which was the first World's Fair ever held in the United States, helped to fund the construction of the Arts and Industries Building.
There was more of interest for 'Futures Past' than just memorabilia from old World's Fairs. The intent was "…to illuminate the many ways that people have tried to make a brighter tomorrow", and the Smithsonian used that as an opportunity to show off a few seldom-seen items from its collection. One of them was the chemical reactor that back in the very early 1900s was used to produce the world's first synthetic plastic, Bakelite. And there was also a robot! I'm guessing this was specifically included because you really can't have an exhibition themed on the future without a robot, right? Except that this one was labeled as an 'android' – it was built by NASA, back in the 1960s, as a humanoid platform for testing astronaut space suits. This was one instance where I wished there hadn't been an explanatory description – it would have been way more fun to let my imagination roam.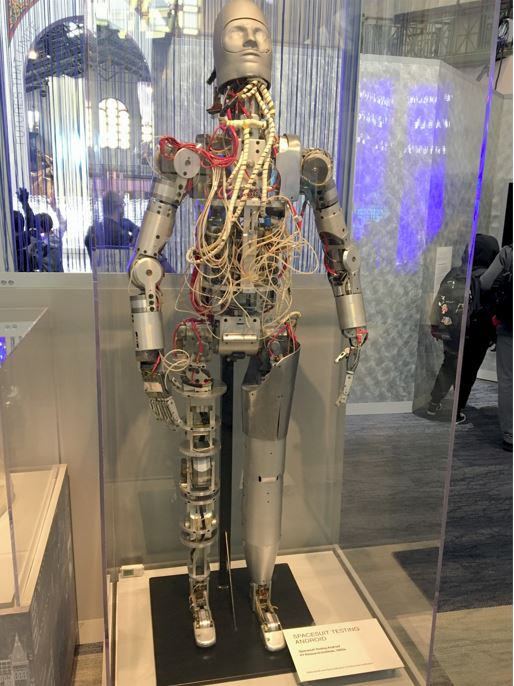 There were even more science-fictional parts of 'Futures' than just what was contained in the various individual exhibits. There was also an anthology of sorts. Eight of the Smithsonian's research teams were asked to imagine what the future, fifty years from now, would look like in their areas of expertise. And then two science fiction writers, Tochi Onyebuchi and Madeline Ashby, were commissioned to write short stories which incorporated those visions. The result was a poster display, all of them stylistically similar to Robert McCall art, with each poster having a QR code link to the story it depicts.
The one I naturally 'gravitated' to was of a space museum, in space! The accompanying story, "In Pursuit of Extra-Terrestrial Life", was written by Ashby and imagined "…the world of 2071, in which an international crew of researchers, scientists and museum professionals learn how to safely bring a fetus to term on the Moon, ushering in a new generation of humanity among the stars". After reading it, it's probably not going to be something that I'll nominate for a Hugo Award. But I will give it an A+ for its futurism.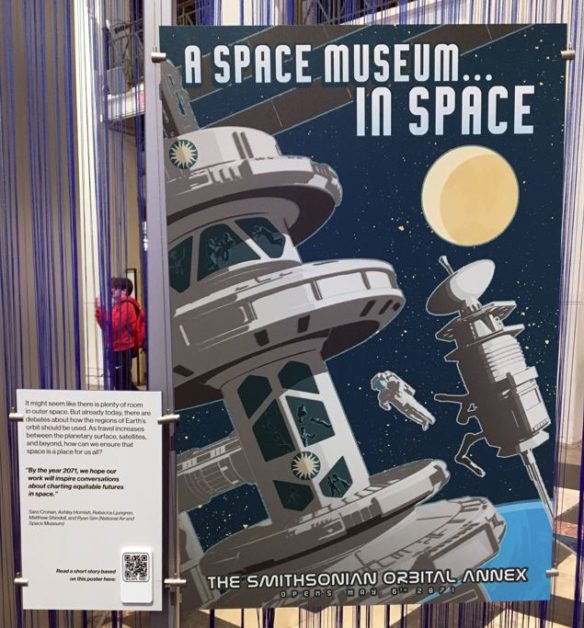 One other noteworthy thing about the 'Futures' exhibition was all the quotes from an eclectic cross-section of famous celebrities – everybody from Carl Sagan to Kermit the Frog – about possible futures and what they could contain. Some of the usual suspects were there (such as Arthur C. Clarke's "Any sufficiently advanced technology is indistinguishable from magic.") as well as some that were less familiar (for example, William Gibson's "The future is already here. It's just not very evenly distributed."). I've read some reviews that would try to convince you that the 'Futures' exhibition itself is not very evenly distributed, tilting too much toward eco-pessimism and fawning too much toward corporate interests, but I'm not in that camp. I liked it a lot and actually came away with a newly-strengthened sense of wonder from everything that I took in.
On the way home, in the subway car, Nicki and I shared out thoughts about the exhibition – what we liked and what we really liked. And, in the end, it was pretty easy to reach consensus: This was a splendid way to spend a day at the museum.