By John Hertz: (reprinted from No Direction Home 14) For me Galaxy's Edge is Mike Resnick's prozine (from earliest days we've had fans and pros; some people are both; fanzine for the amateur magazines published by fans, for fans, was coined by Russell Chauvenet in the 1940s; in 2013 Galaxy's Edge magazine joined Analog, Asimov's, Fantasy & Science Fiction, and like that).
Since May 29th it has also been a new Land at Disneyland Park, devoted to George Lucas' Star Wars; a Florida version is scheduled to open in August at Walt Disney World.
The front cover of the May-June issue of Westways, the Southern California Automobile Club magazine, shows C-3PO and R2-D2 walking toward Snow White's Magic Castle, with the Millennium Falcon flying overhead.
Fascinating.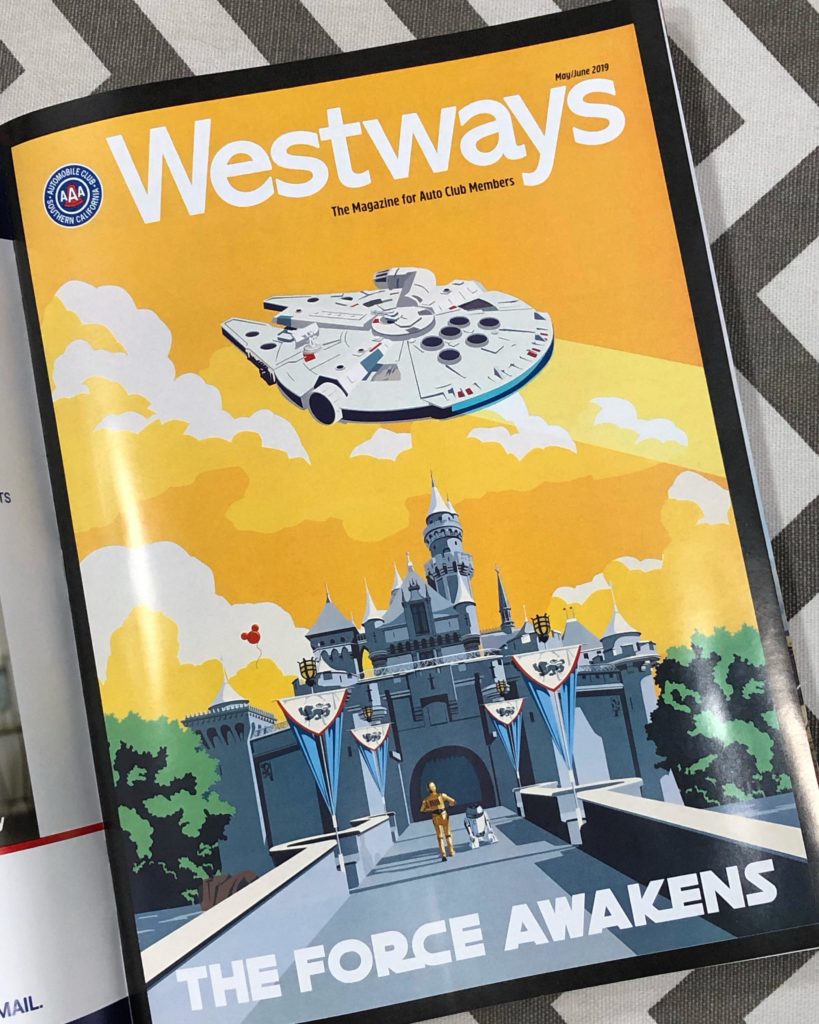 In 1977 Lucas could hardly get a producer for Star Wars. Now Disney has put in fourteen acres, four years, and a billion dollars. Even this "soft" and you-can-only-have-four-hours opening has drawn people thick and threefold.
Arguably Tomorrowland, which preceded, and remains, is less stfnal (our old adjective, from Hugo Gernsback's word scientifiction; pronounced "STEF-nal"): it's a guess at what might come into existence in the future: science fiction is in essence not predictive.
Also Star Wars, which includes the Force, strictly speaking is fantasy – but can that be its main attraction? – when its stfnal elements dominate? Nor ought we forget it's set not only "in a galaxy far away", but "a long time ago" – however, science fiction needn't be about the future.
I'm still big on the title of Richard Feynman's book What Do You Care What Other People Think? I've never wrung my hands over whether s-f has other people's approval. On another tentacle, as Kelly Freas said Art is about communication.