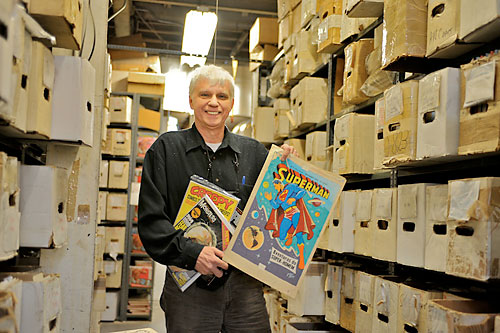 By James H. Burns: Can there be a secret bookstore?
One with over 40,000 volumes, many at a buck a piece?
And with over one million comic books?
And magazines, and games, and toys….?
And just oodles of items that would tickle the fancy of any genre fan?
Joe Koch has been an active bookseller for over forty years, and his ads in the collectors/traders of the late 1980s and for years thereafter, were a cornucopia of the best of comics, and science fiction, and fantasy film magazines.
The last decade has seen his shop make a transition to the internet, emphasizing Ebay, and Amazon.  (It's of importance to note that Joe's Ebay sales are non-auction; he takes pride in offering virtually everything at the best price.)
But somehow less well known is that Joe's office —
"The Warehouse of Wonders" —
Is open to anyone, at any time, by appointment.
It's like walking into a convention out of time.
Exactly like the best of convention dealers rooms, of another era, with treasures and smiles peeking out at every corner, with so many boxes and displays to go through, and admire!
And if you're of the right temperament, that also makes the browsing — and indeed "the hunt!" — all the more intriguing,
The journey to Brooklyn — if this seems appealing! — is well worth the effort.
(As I've said to Joe many times, his shop should be on every bibliophile's "list.")
Koch is having a Black Friday sale tomorrow, taking twenty percent off the already low prices.
Next weekend, on December 5th and 6th, the shop is having another weekend blowout, with free goodies and treats for all who attend!
There's one other intriguing facet. Working with Koch are at least a couple of folks that you might well recognize from the heyday of the New York convention scene, decades ago.
I've been working with Joe the past few weeks, and it's been a delight. We figure we must have met about forty years ago, and have known each other, since about 1985. (When you get right down to it, there just aren't too many left of us from those halcyon days of the Phil Seuling, and other New York conventions. (And, in fact, you will find some of the remnants of the Seuling collections, within the Koch office's walls!))
Can time be preserved on the second floor of a building just blocks from the waters of Gowanus Bay?
Can all these wonderful old publications, and the folks who cherish them, project some kind of fluid, quantum bubble?
Here, and elsewhere, I've sometimes wondered…
And, I believe, it's worth the time to find out!
Driving there is easy, to the destination at 41st and First Avenue in Brooklyn, just a block from the Gowanus. By subway, the trick is to take the D,N or R train to 36th and 4th (shortly  from the Barclay's Center/Atlantic Terminal, coming from Manhattan), walk the five blocks to 41st, hang a right, and walk the short distance to 206 41st Street….
(More directions, and info, at http://www.kochcomics.com/index.html
Joe is an old friend, and on Friday, and next weekend, I'll also be there to say Hello!