One of model railroader John Ott's prized layouts, inspired by H.P. Lovecraft's fictional georgraphy, is the fabulous Miskatonic RR.
Many Lovecraft commentators believe that Arkham [Massachusetts] was old H.P.L.'s stand-in for the real-life burg of Salem— Salem of colonial witch-trial fame. Salem today rates about a seven on the dreary scale— not much to see, despite its touristy cant. But up until about sixty years ago, Salem boasted the most spine-tingling eerie Gothic-Norman stone train station in North America.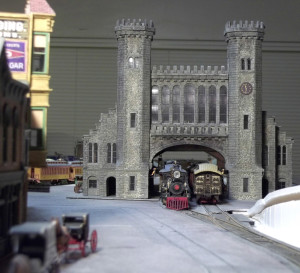 Ott is a Southern California resident who lived four years in New England. He loves to research his period layouts as much as he enjoys doing the artwork constructing the layouts. That chemistry of talents results in exquisite tableaus of trains, cityscapes and figures that seem to come alive when viewed with the photographer's eye. Lots of photos of the buildings, engines and rolling stock on his website.
He's also posted a photo essay about another of theme layout commemorating the 1908 visit of the Great White Fleet to San Diego. Besides a train of open-sided "picnic cars" bringing San Diegans down to the waterfront for the celebration, the fine details include a lineup of naval officers posing for a photographer, and members of the Women's Christian Temperance Union marching in front of the Seven Buckets of Blood saloon!
[Thanks to Andrew Porter for the link.]