Never mind Mozart in the jungle. You can have Mozart on "strange new worlds"! That's where the Pacific Opera Project takes audiences in its Star Trek-themed version of Abduction from the Seraglio.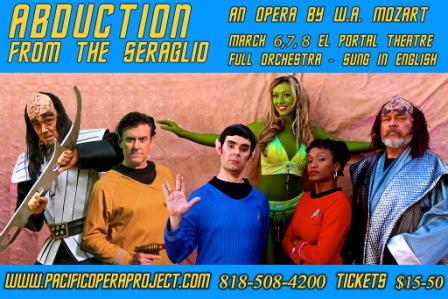 This true space opera, with an English libretto by Josh Shaw, recently completed a limited engagement at the El Portal Theater in North Hollywood. The Turkish sultan is transformed into the Klingon warlord of a distant moon. His 18th-century harem is filled with a gaggle of screaming, multi-hued slave girls. And two Starfleet officers, Captain Belmonte, and a Vulcan, Mister Pedrillo, are on hand hoping to rescue their love interests.
Reviewer Courtney Blackburn of the Pasadena Independent praised the actors to the skies.
I do want to mention the fantastic performances–each player, from the absolute ham Captain Belmonte to the straight-faced-with-a-hint-of-struggle Pedrillo to the glowering and lanky Osmin to the cutesy slave-girl Blondie to the emotional and strongly feminine Lt. Constanza, absolutely embodied the character given to him or her. Some received more straight-up laughter (Brian Cheney's overblown mannerisms really killed), but it was the ensemble as a whole that sole this riotous, rowdy comedy set in space.
Watch an 8-minute clip of the finale on YouTube.
If you're hooked, view the video of the group's Southern Illinois festival performance, about two hours long.