By Hampus Eckerman: It is time for another bracket, this time for Cult Movies, to find the most interesting and worth watching Cult Movies.
A Cult Movie is kind of hard to define, but I have added a few criteria below. These aren't fixed rules, only indications of what a cult movie is or can be.
A Cult Movie is defined more by audience reaction than by the movie itself. Typically, there is a buzz about the movie that never quite reaches the mainstream. There is often a community aspect around the movies
A Cult Movie isn't about being good or bad. It is about being unique and memorable.
There is often something that sets the movie apart from mainstream movies and makes them unique. Unusual acting, direction or script. There is a non-conformism in the movie and it is not of a type that is sent out by the barrel (i.e Troma). Sometimes, the uniqueness is not in the movie, but in the audience participation.
Cult Movies are of the type where you are happily surprised that someone else has seen them (or been part of audience participation of) and you both feel you have to talk about them. They are of the type shown at special screenings.
Types of Cult Movies might include:
Turkey Movies: Movies that are so bad they are good
Campy Movies: Movies that don't take themselves seriously
Exploitation and Art Movies
Low Budget Movies
Mockumentaries, Failed documentaries and Mondo documentaries
Highly quotable movies
Movies shown around or after midnight on TV
RULES FOR NOMINATION
Bracket is not restricted to Science Fiction or Fantasy.
Animated movies are accepted.
TV-movies are accepted.
Minimum length of a movie to be accepted is one hour.
Movies should have first been shown to a wider audience at least 2010.
Do not let the fact that a list has already been created hinder you from naming a movie that is already on it.
You are not restricted in the number of movies you may nominate.
Think not only of what is good or fun. Think of what is interesting or unforgettable.
Nominations will go on for approximately 2 – 4 days, then I will create a new consolidated list consisting of a mix of your recommendations and mine. You will then have a few additional days to nominate what you might have missed. Then I will finalize the list that we will use for voting. I expect the bracket to become something like mainstream Cult Movies – whatever that is.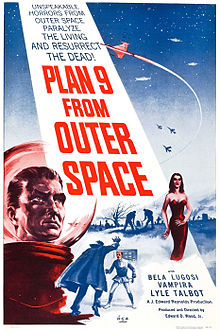 EXAMPLES OF CULT MOVIES
The Adventures of Buckaroo Banzai Across the 8th Dimension (1984)
The Adventures of Priscilla, Queen of the Desert (1994)
Aguirre, the Wrath of God (1972)
Amazon Women on the Moon (1987)
Evil Dead 2 (1987)
Attack of the 50 Foot Woman (1958)
Attack of the Killer Tomatoes (1978)
Bad Boy Bubby (1994)
Bad Taste (1987)
Barbarella (1968)
Battlefield Earth (2000)
Bedtime for Bonzo (1951)
Beetlejuice (1988)
Being John Malkovich (1999)
Big Trouble in Little China (1986)
Bill & Ted's Excellent Adventure (1989)
Blacula (1972)
The Blob (1958)
The Blues Brothers (1980)
A Boy and His Dog (1975)
Braindead (1992)
Bubba Ho-Tep (2002)
Caligula (1979)
Cannibal! The Musical (1993)
Cannibal Holocaust (1980)
A Clockwork Orange (1971)
Condorman (1981)
Crash (1996)
Crumb (1994)
Death Race 2000 (1975)
The Decline of Western Civilization Part II: The Metal Years (1988)
Deep Throat (1972)
Django (1966)
Dr. Goldfoot and the Bikini Machine (1965)
Dr. Strangelove or, How I Learned to Stop Worrying and Love the Bomb (1964)
Drunken Master (1978)
Eat the Rich (1987)
Eraserhead (1977)
Fear and Loathing in Las Vegas (1998)
The Fearless Vampire Killers (1967)
Flash Gordon (1980)
Flesh Gordon (1974)
Food of the Gods (1976)
Frankenhooker (1990)
Fritz The Cat (1972)
Gamera (1965)
Glen or Glenda (1953)
The Gods Must Be Crazy (1980)
Godzilla (1954)
La Grande Bouffe (1973)
The Great Rock 'n' Roll Swindle (1979)
Hairspray (1988)
Häxan (1922)
Heathers (1988)
Heavy Metal (1981)
Heavy Metal Parking Lot (1986)
Hell Comes to Frogtown (1988)
Highway to Hell (1992)
How to Get Ahead in Advertising (1989)
Howard the Duck (1986)
Ilsa: She Wolf of the SS (1974)
The Incredibly Strange Creatures Who Stopped Living And Became Mixed-Up Zombies (1963)
Ishtar (1987)
Killer Klowns from Outer Space (1988)
The Killer Condom (1996)
Kung Pow! Enter the Fist (2002)
The Lair Of The White Worm (1988)
Liquid Sky (1982)
The Little Shop of Horrors (1960)
Logan's Run (1976)
The Lost Boys (1987)
El Mariachi (1993)
Mars Attacks! (1996)
Matilda (1996)
Meet the Feebles (1989)
Memento (2000)
Metropolis (1927)
Mommie Dearest (1981)
Mondo Cane (1962)
Monty Python and the Holy Grail (1975)
Monty Python Live at the Hollywood Bowl (1982)
Monty Python's Life of Brian (1979)
Mr. Vampire (1985)
Nosferatu, eine Symphonie des Grauens (1922)
Office Space (1999)
The Party (1968)
The People Under the Stairs (1991)
Phantom of the Paradise (1974)
Plan 9 from Outer Space (1959)
Polyester (1981)
The Princess Bride (1987)
Pulp Fiction (1994)
Rare Exports (2010)
Re-Animator (1985)
Rebel Without a Cause (1956)
Reefer Madness (1936)
Repo Man (1984)
Reptilicus (1961)
The Rocky Horror Picture Show (1975)
Rope (1948)
Rumble Fish (1983)
Salò, or the 120 Days of Sodom (1975)
Satyricon (1969)
Scanners (1981)
Sexmission (1984)
Shaun of the Dead (2004)
Shivers (1975)
Shogun Assassin (1980)
Sid & Nancy (1986)
Six-String Samurai (1998)
Some Like It Hot (1959)
Soylent Green (1973)
Star Wars Holiday Special (1978)
Streets of Fire (1984)
The Stuff (1985)
Swamp Thing (1982)
Tank Girl (1995)
Thelma & Louise (1991)
Them! (1954)
They Live (1998)
This is Spinal Tap (1984)
Toys (1992)
Troll 2 (1990)
Vampyros Lesbos (1971)
Videodrome (1983)
Village of the Damned (1960)
The Warriors (1979)
The Wicker Man (1973)
Withnail and I (1987)
Wizards (1977)