The Eisner Awards judges have selected four people to be automatically inducted into the Will Eisner Hall of Fame for 2019,
Jim Aparo (Silver Age DC artist, Brave and the Bold, Batman and the Outsiders)
Jim Aparo's first comics work was at Charlton Comics in the late 1960s. He worked on several genres there and was eventually recruited by editor Dick Giordano for a move to DC Comics in the late 1960s, where he handled such features as Aquaman and Phantom Stranger before landing the art chores on DC's premiere team-up book The Brave and the Bold (starring Batman). He then co-created (with Mike W. Barr) Batman and the Outsiders, which he drew from 1983 to 1985. Aparo went on to draw stories for Batman (most notably "A Death in the Family" storyline), Detective, and other DC titles into the late 1990s. For most of his career, Aparo not only pencilled his work but inked and lettered it as well. He died in 2005.
Dave Stevens (writer/artist, creator of The Rocketeer)
Dave Stevens created the Rocketeer, the retro adventure hero of 1980s indie comics and 1991 movie fame. The Rocketeer combined Stevens' love of 1930s movies, the golden age of aviation, and 1950s pinup girl Bettie Page. Before becoming a professional artist, Stevens contributed amateur illustrations to early Comic-Con program books in the 1970s. His first professional gig was as Russ Manning's assistant on the Tarzan comic strip in 1975. Stevens later worked as an animator at Hanna-Barbera and a storyboard artist on projects including Raiders of the Lost Ark and Michael Jackson's "Thriller" music video. Stevens was the first recipient of the Russ Manning Most Promising Newcomer Award in 1982, and he won an Inkpot Award and the Kirby Award for Best Graphic Album in 1986. He died in 2008.
June Tarpé Mills (Golden Age creator of the Miss Fury comic strip and comic books)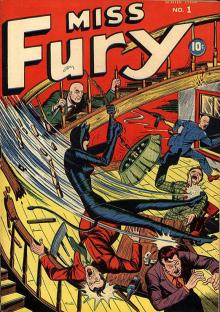 One of the few female artists working during the Golden Age of comics, June Tarpé Mills was the creator of Miss Fury, an action comic strip and comic book that first appeared in 1941.
Miss Fury is credited as being the first female action hero created by a woman. The Miss Fury comic strip ran until 1951.
Mills returned to comics briefly in 1971 with Our Love Story at Marvel Comics. She died in 1988.
---
Morrie Turner (cartoonist of the Wee Pals newspaper strip)

Morrie Turner created the Wee Pals comic strip in 1965. When Wee Pals was first created, bringing black characters to the comics pages was by no means an easy task. At first, only five major newspapers published the strip. It was not until 1968 and the tragic assassination of Martin Luther King Jr. that Wee Pals achieved nationwide acceptance. Within three months of Dr. King's death, Wee Pals was appearing in more than 100 newspapers nationwide. In 2012 Turner was the recipient of Comic-Con's Bob Clampett Humanitarian Award. He also has the distinction of having been one of the handful of pros at the very first Comic-Con in 1970.
The judges have also chosen 14 nominees from which voters will select 4 to be inducted in the Hall of Fame this summer. These nominees are Brian Bolland, Kevin Eastman, Jose Luis Garcia-Lopez, Lynn Johnston, Jenette Kahn, Paul Levitz, Alex Nino, Lily Renée Peter Phillips, Wendy & Richard Pini, P. Craig Russell, Bill Sienkiewicz, Don & Maggie Thompson, Akira Toriyama, and Naoki Urasawa. For a complete list of the 2019 nominees, including bios and art, click here.