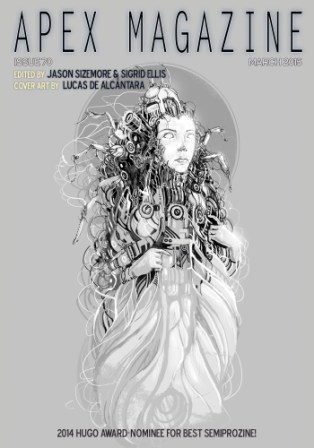 Apex Magazine #70 features original fiction by Shannon Peavey, Rati Mehrotra, Nina Kiriki Hoffman, and Thoraiya Dyer.
Poetry editor Bianca Spriggs has selected four poems for the issue, by Steven Wittenberg Gordon, Jennifer Ironside, Jarod K. Anderson and Bath Cato.
And the issue also provides a sneak peak of Damien Angelica Walters' collection Sing Me Your Scars by reprinting collection's title story.
There are also interviews with Damien Angelica Walters and cover artist Lucas de Alcântara.
Exclusive to eBook buyers and subscribers is a reprint of "Seed" by Shanna Germain.
All of the original fiction, poetry, and nonfiction can be found on the Apex Magazine website, as can the reprint from Sing Me Your Scars. Click here)
The entire issue, including Shanna Germain's reprint, is available for $2.99 direct through Apex, or through Amazon, Barnes & Noble, or Weightless Books. Subscriptions are also available.
Fiction
"Houdini's Heart" by Thoraiya Dyer
"Charaid Dreams" by Rati Mehrotra
"A Beautiful Memory" by Shannon Peavey
"Where I'm Bound" by Nina Kiriki Hoffman
"Sing Me Your Scars" by Damien Angelica Walters "Seed" by Shanna Germain (eBook/subscriber exclusive)
Poetry
"barefoot sprites beware" by Steven Wittenberg Gordon
"Hook" by Jennifer Ironside
"The Changeling Answer" by Jarod K. Anderson
"Mama Gonna Fight" by Beth Cato
Nonfiction
"Words from the Editor-in-Chief" by Jason Sizemore
"A Whole New World" by Mark Allan Gunnells
"Apex Author Interview with Damien Angelica Walters" by Andrea Johnson
"Apex Cover Artist Interview with Lucas de Alcântara" by Russell Dickerson
"Clavis Aurea: A Review of Short Fiction" by Charlotte Ashley
Podcast Fiction
"Houdini's Heart" by Thoraiya Dyer