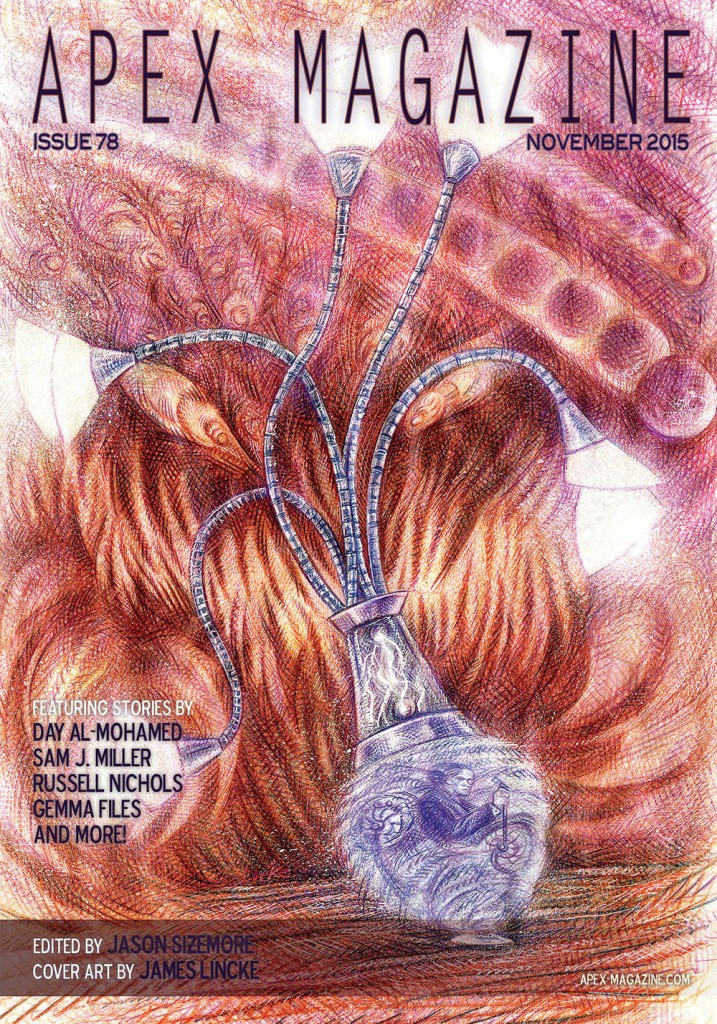 Apex Magazine Issue 78 features original fiction by "Blood on Beacon Hill" by Russell Nichols, "The Beacon and the Coward" by Day Al-Mohamed, and "To Die Dancing" by Sam J. Miller", plus poetry by Levi Chloe Clark, Michael Sikkema, Julia Kingston, and Brittany Warman.
A nonfiction article "Cthulhu Apocalypse and the Terrifying Tradition of Horror Role-Playing Games." is by Ed Grabianowski. There are two interviews: Andrea Johnson interviewed Russell Nichols, and Russell Dickerson interviewed cover artist James Lincke.
Exclusive for buyers of the subscriber/eBook edition is a reprint of "Signal to Noise" by Gemma Files, and excerpts from The Flux by Ferrett Steinmetz, How to Pass as Human by Nic Kelman, and The Weight of Chains by Apex Magazine's managing editor Lesley Conner.
The free original fiction, poetry, and nonfiction will be released throughout the month on the Apex Magazine website. You can see the release schedule here and well as read the contributions as they are released here.
The entire issue is available for only $2.99 in PDF, ePub, and mobi formats direct from Apex, or through Weightless Books, Amazon, and Barnes & Noble. Subscriptions are also available on either a yearly or monthly basis.
Linked items have already been posted online.
WEEK ONE
WEEK TWO
To Die Dancing by Sam J. Miller (Short Fiction — November 10th)
Cthulhu Apocalype and the Terrifying Tradition of Horror Role-Playing by Ed Grabianowski (Nonfiction — November 11th)
Mother Doll by Brittany Warman (Poetry — November 12th)
WEEK THREE
The Beacon and the Coward by Day Al-Mohamed (Short Fiction — November 17th)
Interview with Cover Artist James Lincke by Russell Dickerson (Interview — November 18th)
When the Gods Come Knocking by Julia Kingston (Poetry — November 19th)
WEEK FOUR
Signal to Noise by Gemma Files (Short Fiction Reprint — November 24th)
Time Missing by Michael Sikkema (Poetry — November 25th)
eBook/Subscriber Exclusives
The Flux by Ferrett Steinmetz (Novel Excerpt)
The Weight of Chains by Lesley Conner (Novel Excerpt)
How to Pass As Human: A Guide to Assimilation for Future Androids by Android Ø by Nic Kelman (Novel Excerpt)
Podcast Fiction