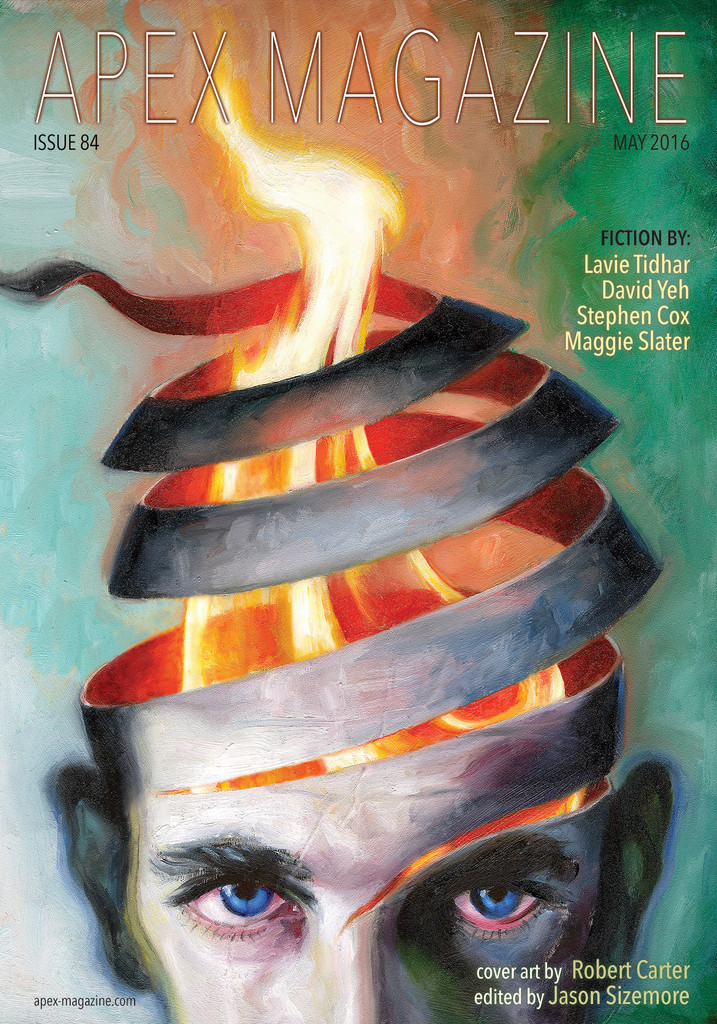 Apex Magazine Issue 84 includes original fiction by Stephen Cox ("1957"), David K. Yeh ("Cottage Country"), and Maggie Slater ("The Behemoth Beaches").
There is a reprint by Lavie Tidhar, and an excerpt from Chris Bucholz's upcoming novel Freeze/Thaw.
Poetry editor Bianca Spriggs has selected four poems for the issue, written by FJ Bergmann, Ken Poyner, Janna Layton, and Christina Sng.
The nonfiction entries are two interviews, an essay by managing editor Lesley Conner, and an editorial from Jason Sizemore
The entire issue will be released over the month on the Apex Magazine website – see the release dates below — or can be purchased for only $2.99 as a nicely formatted eBook. Subscriptions are also available direct from Apex, Weightless Books, and Amazon.
TABLE OF CONTENTS
WEEK ONE
WEEK TWO
Cottage Country by David K. Yeh (Short Story, May 9th)
Gender Equality in Apex Magazine by Lesley Conner (Essay, May 11th)
Before the Empire Goes Inter-Galactic by Ken Poyner (Poetry, May 13th)
WEEK THREE
Freeze/Thaw by Chris Bucholz (Novel Excerpt, May 17th)
The Behemoth Beaches by Maggie Slater (Short Story, May 19th)
WEEK FOUR
The Drowned Celestial by Lavie Tidhar (Novelette, May 23rd)
Mammon's Cave by Janna Layton (Poetry, May 25th)
Interview with Robert Carter, Cover Artist by Russell Dickerson (May 27th)
WEEK FIVE
The Perfect Planet by Christina Sng (Poetry, May 31st)
Podcast Fiction Download Apex Magazine Podcast #35 ("1957" by Stephen Cox) (30:05 in length)