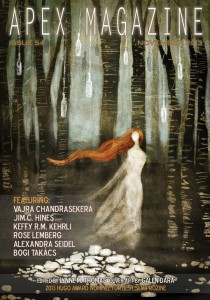 Apex Magazine #54 has been released — departing editor-in-chief Lynne M. Thomas's penultimate issue. It can be read for free here or bought as a formatted eBook edition here.
FICTION
Recordings of a More Personal Nature by Bogi Takács
The Jackal's Wedding by Vajra Chandrasekera
This is a Ghost Story by Keffy R.M. Kehrli
The Creature in Your Neighborhood by Jim C. Hines
NONFICTION
The SF/F Community: An Essay of Thanksgiving by Michael Damian Thomas & Lynne M. Thomas
Interview with Jim C. Hines
Blood on Vellum: Notes from the Editor-in-Chief by Lynne M. Thomas
POETRY
Major Arcana I: The Mage by Alexandra Seidel
Where the Ocean Falls into Itself by Rose Lemberg
PODCAST FICTION
This is a Ghost Story by Keffy R.M. Kehrli
Cover art by Galen Dara.
Apex Magazine is a monthly science fiction, fantasy, and horror magazine featuring original, short fiction from many of the top pros of the field. New issues are released on the first Tuesday of every month.