From opposite ends of the earth come two more crime fiction awards updates.
DAVITT AWARD
The winners of the 2021 Davitt Award, handed out by Sisters in Crime Australia, have been announced.
BEST ADULT NOVEL
Sally Hepworth — The Good Sister (Pan Macmillan Australia)
BEST YOUNG ADULT CRIME NOVEL
Christie Nieman — Where We Begin (Pan Macmillan Australia)
BEST CHILDREN'S CRIME NOVEL
Lian Tanner — A Clue for Clara (Allen & Unwin Children's)
BEST CHILDREN'S CRIME NOVEL
Sue Whiting — The Book of Chance (Walker Books Australia)
BEST NON-FICTION BOOK
Louise Milligan — Witness: An investigation into the brutal cost of seeking justice (Hachette Australia)
BEST DEBUT BOOK
Leah Swann — Sheerwater (4th Estate, an imprint of HarperCollins Publishers Australia)
READERS' CHOICE AWARD
Katherine Kovacic — The Shifting Landscape (Alex Clayton #3) (Echo Publishing)
The Davitts are named after Ellen Davitt, the author of Australia's first mystery novel, Force and Fraud, in 1865.
The judging panel for 2021 comprised Philomena Horsley, winner of the 2018 Scarlet Stiletto Award and medical autopsy expert; Joy Lawn, YA expert, and reviewer; Janice Simpson, author and academic; Emily Webb, true crime author, and podcaster; and Sisters in Crime national co-convenors, Moraig Kisler and Tara Mitchell.
MCILVANNEY PRIZE SHORTLIST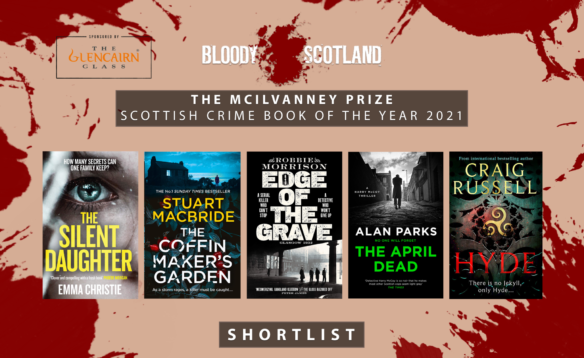 The McIlvanney Prize recognizes excellence in Scottish crime writing, and includes a prize of £1,000 and nationwide promotion in Waterstones.. Here is The McIlvanney Prize 2021 shortlist:
The Silent Daughter, Emma Christie (Wellbeck)
The Coffinmaker's Garden, Stuart MacBride (HarperCollins)
Edge of the Grave, Robbie Morrison (Macmillan)
The April Dead, Alan Parks (Canongate)
Hyde, Craig Russell (Constable)
[Thanks to Cora Buhlert for the story.]