Two art sales on opposite sides of the world are also poles apart in their artists' vision of characters from children's books and cartoons.
Kiddy lit at its most innocent is the trademark of next month's Sotheby's London "English Literature, History, Children's Books and Illustration" sale, where E. H. Shepard's illustration of Winnie-the-Pooh playing a game of "Poohsticks" on a bridge with Christopher Robin and Piglet, published in The House at Pooh Corner (1928), is expected to bring more than £100,000. Also on the block are drawings by Beatrix Potter and Edmund Dulac.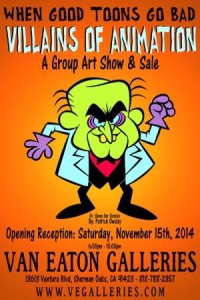 Villainy, horror and sensuality, on the other hand, are celebrated in Van Eaton Galleries' "When Good Toons Go Bad: Villains of Animation", featuring artists' interpretations of Saturday morning cartoon villains and big screen meanies. The show opens November 15 in Sherman Oaks, CA and runs until November 29.
[Thanks to Andrew Porter and John King Tarpinian for the links.]