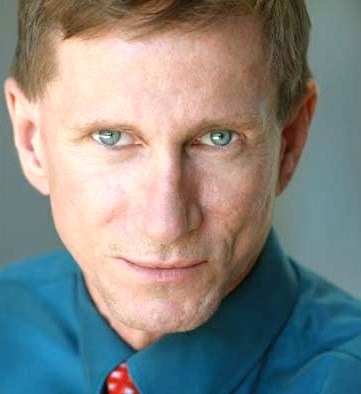 By Mark L. Blackman: As we approach his centennial (he was born on August 22, 1920), there's renewed interest in iconic fantasist Ray Bradbury. This is, in some part, due to next month's fresh adaptation of Fahrenheit 451, starring Michael B. Jordan and Michael Shannon. (I still remember the Oskar Werner/Julie Christie film from Truffaut.) For his loyal following of readers, though, Bradbury's appeal has never flagged.
Back in September, I caught Emmy-winner Bill Oberst Jr.'s  masterful and haunting adaptation of Bradbury's "Pillar of Fire" for the solo stage. (In addition to New York, it also played in Los Angeles.) On Thursday, April 12, for one night only, Oberst returned to the same Off-Broadway venue, Theatre Row, with a staged reading of Ray Bradbury Live (forever). The script, written by Oberst, adapting Bradbury's own words, was approved by the Bradbury Estate and vetted by Bradbury scholars and authors Dr. Jonathan Eller and Dr. Phil Nichols. Oberst stars as Ray Bradbury circa 1970. "It's like The Belle of Amherst meets Mark Twain Tonight – with dinosaurs," said Oberst, further describing the show as "a mix of Epcot ride, Planetarium show and dream."
To suggest Ray Bradbury, in his portrayal, Oberst relied on an old brown suit, Ray's characteristic glasses, and a Midwestern accent (Bradbury was originally from Waukegan, Illinois), but the illusion was ultimately powered by captivating excerpts from his works brilliantly brought to life onstage by Oberst. Interspersed with selected lectures of Bradbury's (I was privileged to hear him at the 1986 Atlanta and 2006 LA Worldcons), we were treated to readings of scenes from "A Sound of Thunder" (the story that gave the world the phrase "the butterfly effect"), Something Wicked This Way Comes, The Martian Chronicles ("The Million-Year Picnic"), and the lesser-known "The Murderer."
Once described as writing ghost stories without ghosts and science fiction without science (one word: Mars), Bradbury was, above all, a lyrical word-painter and the audience was held firmly in his (their) grip as we were swept along from a face-to-face in the jungle with a T. rex to a confrontation in a small-town library with the demonic master of a dark carnival to the fabled canals of Mars amid the end of the world. The "Epcot ride" whirled through story-worlds variously eerie, terrifying, satiric, bittersweet and genuinely funny.
Bradbury famously quipped "I don't predict the future – I try to prevent it," and there was much that resonated with us today. Take Brock, "the murderer," overwhelmed by what we now call "smart devices", "technology gone horribly wrong": "In touch! There's a slimy phrase. Touched, hell. Gripped! Pawed, rather. Mauled and massaged and pounded by voices." (He finally snaps, and spoons a quart of French chocolate ice cream – his favorite flavor – into his car's radio transmitter and shoots his tv, "that insidious beast.") Then too consider the familiar-sounding deplorable Presidential candidate: "There's an anti-everything man for you, a militarist, anti-human, anti-intellectual." And at least half of the audience appreciated:
"Why not let women man the wheel? For a few years, at least. We'oove ingested testosterone from the mouth of the cave to the burned libraries of Alexandria to unending war. … Oh Lord, let all the nations and all the cities of all the world be governed, for just a little while, by women. Just ordinary, by which I mean extraordinary, women who can mother-nurse-teach the world. Men don't have to go to the back of the bus. They can protect their ravenous egos by advising from a side-seat on how to get lost."
(I've always likened Bradbury to Norman Rockwell: on the surface nostalgically vivid Americana, but subtly subversive.)
Joining Oberst on stage – the backdrop was simple, painted library shelves, apt not only for  Something Wicked This Way Comes, but reflecting Bradbury's lifelong love of and affinity for libraries – were Off-Broadway veterans Steven Hauck as the Narrator, providing descriptions and set design (Oberst didn't actually ride in on a bicycle, and there were no slide projections of Bradbury's book covers nor text projected on-screen; there are plans, by the way, for a full Off-Broadway production in 2019 – I'll be there – followed by a national tour, and Oberst will employ prosthetic make-up for his transformation into Bradbury … and maybe even have a real bicycle), and Zoë Watkins as the psychiatrist in "The Murderer" and as Bradbury's wife and muse, Maggie. (They well-conveyed the couple's love – at one point they evoked "Oh Yes, I Remember It Well" – even leaving their stools for a dance.) The production was directed by Michael Joseph Ormond.
Ray Bradbury Live (forever) is, at heart, Bill Oberst Jr.'s love letter to Bradbury (spread across a table immediately outside the performance space were Bill's personal copies of a slew of books by Bradbury), so it's only fitting to close with Bradbury's own philosophy of life and love:
If life is going to be worth a damn, love and imagination have to be at the center of it. … How can you not be in love with something? The things you love should be things you do and the things you do should be things you love. Never let anyone make you feel ashamed of your love. To hell with them. You love what you love.
That's the fruit at the bottom of the bowl.