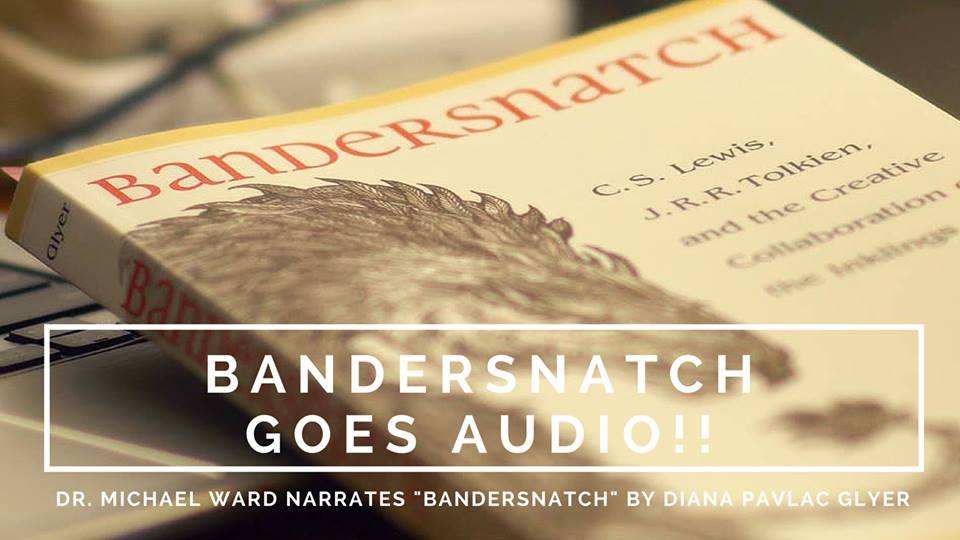 With four days left to run, the Kickstarter to fund an audiobook edition of Diana Pavlac Glyer's Bandersnatch has received $4,906 of pledges towards its $5,550 goal. Can it go the distance?
Bandersnatch is an inspiring new book that tells how C. S. Lewis, J. R. R. Tolkien, and the Inklings challenged and encouraged one another to accomplish great things. Written by award-winning author Diana Pavlac Glyer, it was published in January 2016 and is currently available in paperback and eBook formats. Now we are raising funds to cover the expense of recording a professional-quality Audiobook, narrated by Dr. Michael Ward. Bandersnatch goes AUDIO!!
Dr. Michael Ward is the author of Planet Narnia (2008) and co-editor of C. S. Lewis at Poets' Corner (2016) and The Cambridge Companion to C. S. Lewis (2010). To hear his voice, listen to this interview hosted by Eric Metaxas.
The book edition of Bandersnatch is beautifully illustrated by James A. Owen. Learn more at www.BandersnatchBook.com.
If the Kickstarter realizes support above and beyond its target, there will be perks for the achieving the following stretch goals —
Wait! Did somebody say "STRETCH GOALS"?

$5,650: DR. WARD and the JABBERWOCK: If we reach this stretch goal and get $5,650 in total pledges, we'll pester Dr. Michael Ward just a little bit more. We'll put him in front of the camera and listen as he reads Lewis Carroll's "Jabberwocky." Wait till you hear how this guy says "BANDERSNATCH!" Oh, this will be good. Please: Let's make this happen!!

$5,900: THE AUTHOR AS ARTIST: Sure, James A. Owen can draw a bandersnatch. In fact, James is so talented that he can probably draw a bandersnatch with his eyes closed. But can Diana draw one? Let's put it to the test! If we reach this stretch goal, Diana Pavlac Glyer will have 20 minutes to draw a bandersnatch. And no matter how awful and embarrassing the result turns out, you will get a digital download. (Hmm. Material for blackmail, if nothing else…).

$6,400: Okay. NOW I'M CURIOUS: Can James A. Owen really draw a bandersnatch blindfolded? That could be fun. If we reach this stretch goal, we'll make James draw a bandersnatch BLINDFOLDED. Might even videotape it on my iPhone. And once again, every backer at every level of support will get a digital download.