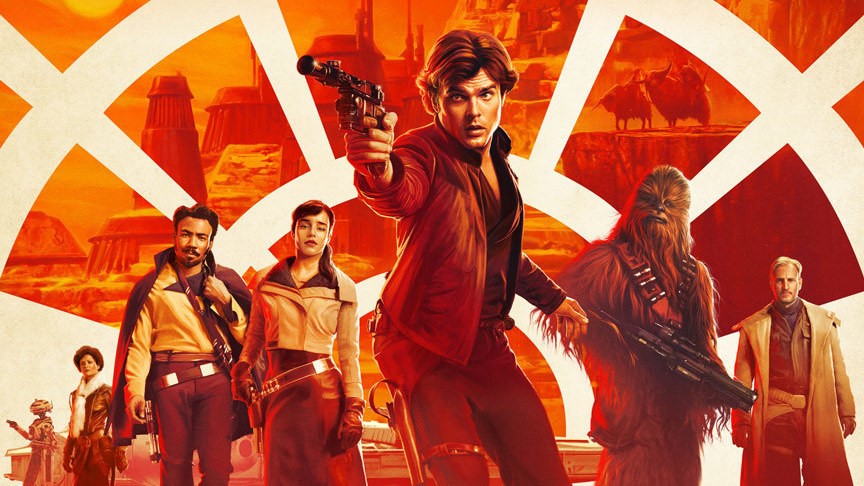 Solo: A Star Wars Story/A Film Review
By Chris M. Barkley:
Solo; A Star Wars Story, (***) with Alden Ehrenreich, Donald Glover, Emilia Clarke, Woody Harrelson, Thandie Newton, Phoebe Walter-Bridge, Joonas Soutamo and Paul Bettany. Screenplay by Jonathan Kasdan and Lawrence Kasdan, based on characters created by George Lucas, Directed by Ron Howard.
Sooner or later, it happens. A film franchise overstays its welcome and the whole enterprise implodes on its own bloated budget, poor storytelling, lackluster acting performances, studio hubris and finally, the indifference of the audience.
But, fortunately for legions of Star Wars fans everywhere, Solo, the second film in a series of standalone films, dodges this bullet.
An orphan, young Han (Alden Ehrenreich), manages to barely escape poverty and is forced into thievery on his home world, Corellia, only to find himself fighting as an infantryman for the Empire on the dangerous backwater worlds on the Outer Rim. He sees a chance to desert when he encounters a group of smugglers disguised as soldiers headed up by Tobias (Woody Harrelson) and Val (Thandie Newton). Not wanting any new recruits, they arrange to have Han thrown in the brig, where he meets and wins over the trust of a fellow prisoner, a wookiee named Chewbacca. The duo's escape impresses Tobias so much, he takes them on apprentices.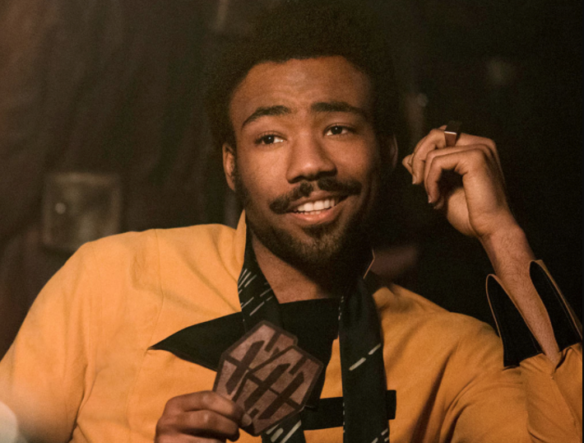 Complications arise when a heist goes wrong and the gang finds themselves in the debt of Dryden Vos (Paul Bettany), leader of the Crimson Dawn Syndicate. His lieutenant, Qi'ra, is someone Han's know well: she is the other person he was forced to leave behind when he fled Correlia. A new heist is set into motion but one of the requirements is a very fast ship to deliver the merchandise in an incredibly tight timeframe. So the gang seeks out a legendary "retired" smuggler named Lando Calrissian (Donald Glover), the owner of a certain YT-1300 freighter named the Millennium Falcon…
A number of mainstream reviewers and critics are already bashing Solo because, in their estimation, it adds "nothing new" to the Star Wars canon. Well, to be perfectly honest, they don't get it. Star Wars fans probably know most of Han Solo's story before they see a frame of this movie. What they want is too actually fill in the blanks of his story; to see where he came from and what formed his character from an early age.
And for the most part, this movie delivers some slightly predictable, but pertinent answers. Sure, Han Solo has some rough edges but, as Jake and Lawrence Kasdan's screenplay takes pains to point out, he's smart, resourceful and cunning, and he's still trying to figure things out, including who he is and exactly what he wants to do with his life.

Both Alden Ehrenreich and Donald Glover had the most unenviable tasks in Solo; trying to convince audiences that they can fill the shoes of Harrison Ford and Billy Dee Williams. And surprisingly, they did evoke enough of the ambiance, mannerisms and swagger needed to succeed on their own terms.  And after seeing his work here, I desperately want Donald Glover to headline his own Star Wars spinoff, with Han and Chewie as the supporting characters.
Emilia Clarke's Qi'ra radiates a smug confidence about herself and her abilities but at certain points, also show a vulnerable side that can barely hold back telling Han her true feelings and unbearable secrets. (And her true employer, who is revealed towards the end of the movie, is, trust me, a real SHOCKER!)
If Solo has a palatable weakness, it's Woody Harrleson's Tobias Beckett. He's Solo's Yoda, so to speak, giving sage advice and trying, against his better nature and interest, to mentor Han. But his narrative function in the story seems a bit too well telegraphed as the movie goes forward.  This, however, did not diminish my admiration of his acting; I just wish his character had been more hard-edged in marked contrast to Solo's.
A particular delight was Phoebe Walter-Bridge voice performance as Lando's navigator and companion, L3-37. A "liberated" droid who freely dispensed advice, insults and insights, she was easily my favorite new Star Wars character. And after three films, I think Joonas Soutamo owns the role of Chewbacca for the next generation or so.
If anyone was wondering if they could distinguish which parts were directed by the original directors, Phil Lord and Christopher Miller (who were fired but accepted Executive Producer credits) and their replacement, Ron Howard, don't bother because it doesn't really matter. It's all very well-directed with some gorgeous visuals and nifty callbacks (or, rather, call-forwards) to Han and Chewie's other adventures.
Solo: A Star Wars Story may not be a top rank film like its predecessor, Rogue One, but it is a smart, fun little thrill ride that will tide fans over very nicely until Episode Nine opens in a year and a half.