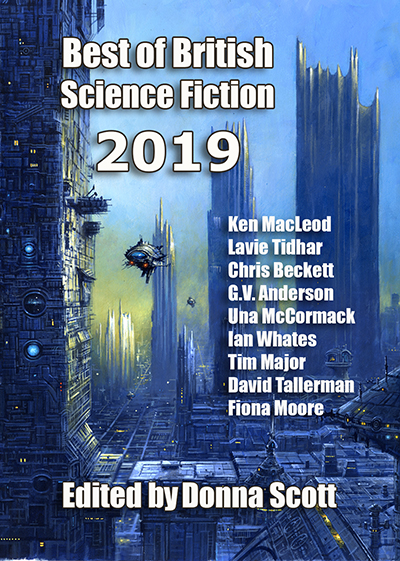 Newcon Press has released the table of contents for Best of British Science Fiction 2019 edited by Donna Scott. The book will be published July 14.
In this volume you will encounter tales in which creatures are cut off from their loved ones; someone is trapped with an abuser; a bird sings; weeds grow where we hope for a garden; we consider what our alternative selves might be doing; we can't sleep; we wish we could keep things just the way they were; we drink too much… and we look to rockets blasting off into the sky and think that there lies the future; that's hope.

Best of British Science Fiction 2019 is once again edited by Donna Scott, a recent chair of the BSFA and a distinguished poet, writer, and stand-up comedian. Donna is also a free-lance editor who has worked behind the scenes for a number of major publishers over the course of several years.
2019: An Introduction – Donna Scott
The Anxiety Gene – Rhiannon Grist
The Land of Grunts and Squeaks – Chris Beckett
For Your Own Good – Ian Whates
Neom – Lavie Tidhar
Once You Start – Mike Morgan
For the Wicked, Only Weeds Will Grow – G. V. Anderson
Fat Man in the Bardo – Ken MacLeod
Cyberstar – Val Nolan
The Little People – Una McCormack
The Loimaa Protocol – Robert Bagnall
The Adaptation Point – Kate Macdonald
The Final Ascent – Ian Creasey
A Lady of Ganymede, a Sparrow of Io – Dafydd McKimm
Snapshots – Leo X. Robertson
Witch of the Weave – Henry Szabranski
Parasite Art – David Tallerman
Galena – Liam Hogan
Ab Initio – Susan Boulton
Ghosts – Emma Levin
Concerning the Deprivation of Sleep – Tim Major
Every Little Star – Fiona Moore
The Minus-Four Sequence – Andrew Wallace
[Via Lavie Tidhar.]