By Carl Slaughter: "Wings of Sorrow and Bone," a novella in the Clockwork series, gained steampunk author Beth Cato a Nebula nomination. The first novel in the series, The Clockwork Dagger, was nominated for a Locus Award.  The second, The Clockwork Crown, was nominated for a RT Readers Choice award. The Clockwork series was positively reviewed by Publishers Weekly, Kirkus, Library Joural, NPR, RT, and Lucus.
Deep Roots the Clockwork short fiction collection, came out in August. Also out in August was the first novel in Cato's new series, Breath of Earth. Part alternative history, part fantasy (geomancers), part international politics.  The sequel, Call of Fire is due in 2017.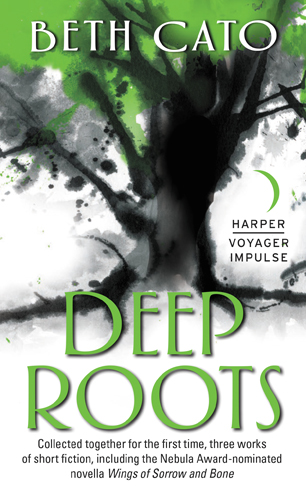 Cato has sold almost 80 stories to such markets as Intergalactic Medicine Show, Beneath Ceaseless Skies, Baen's, Daily Science Fiction, Perihelion, Plasma Frequency, Stupefying Stories, Fantasy Scroll, Urban Fantasy, and Nature.  A prolific author of 100 poems, she has been nominated for two Rhysling awards. She has contributed many stories to the Chicken Soup for the Soul series. Her stories have been podcasted in StarShip Sofa, PodCastle, Escape Pod, Cast of Wonders, Toasted Cake, Far Fetched Fables, and Every Day Fiction.
Beth Cato's thoughts on Breath of Earth:
"My inspiration for Breath of Earth comes out of my own personal experience as a native Californian growing up with earthquakes. After I felt the 1989 Bay Area quake from 200 miles away, I was especially fascinated by the 1906 quake that also devastated San Francisco. It all happened close to home. It felt personal; it still does. I can't hide that a major earthquake happens in my book, but the reasons for it are quite different. I tried to go deep into the concept of geomancy as not only a magical power, but an economic one that plays a major role in this new steampunk 1906 with America and Japan allied as a world power.

"I love researching for my novels and stories, even though the process can be very intimidating at times. I want to get details as accurate as possible within the context of the period, and if I alter history, I want there to be a valid reason for doing so. My research methods are rather obsessive; it's often hard for me to stop once I start, because the more I read, the more I despair over my own ignorance. I have to finally reach a point where I must let go, accept the work as it is, and acknowledge that I will undoubtedly error in embarrassing ways.

"That said, I'm a history geek, and I soak in all of this trivia. I have read thousands of pages about Theodore Roosevelt because he plays a role in my new series. I have never written about an actual historical figure on-screen before, and I want to be sure to get him right. He's a fascinating, complex, contradictory man. I think I'll continue to research and read about him even though I don't need to do so for my books at this point. Theodore is just as charismatic after death as he was in life."
Breath of Earth
After the earth's power under her city is suddenly left unprotected, a young geomancer must rely on her unique magic to survive in this fresh fantasy standalone from the author of the acclaimed The Clockwork Dagger.

In an alternate 1906, the United States and Japan have forged a powerful confederation— the Unified Pacific—in an attempt to dominate the world. Their first target is a vulnerable China. In San Francisco, headstrong secretary Ingrid Carmichael is assisting a group of powerful geomancer wardens who have no idea of the depth of her own talent—or that she is the only woman to possess such skills.

When assassins kill the wardens, Ingrid and her mentor are protected by her incredible magic. But the pair is far from safe. Without its full force of guardian geomancers, the city is on the brink of a cataclysmic earthquake that will expose the earth's power to masterminds determined to control the energy for their own dark ends. The danger escalates when Chinese refugees, preparing to fight the encroaching American and Japanese forces, fracture the uneasy alliance between the Pacific allies, transforming San Francisco into a veritable powder keg. And the slightest tremor will set it off. . . .

Forced on the run, Ingrid makes some shocking discoveries about herself. Her already considerable magic has grown even more fearsome . . . and she may be the fulcrum on which the balance of world power rests.
Praise for Breath of Earth
"The acclaimed Cato creates an alternate early 20th-century San Francisco of stunning detail. Drawing on the power struggles of the refugees and women's work, this vivid reality will keep readers intrigued to the very end." – Library Journal
"Cato begins a new steampunk fantasy series with supernatural creatures, action-packed adventure, mystery, humor, a touch of romance, and more to come." "The steampunk aspects, along with the mixture of real historical events and timely social issues, will appeal to teens." – Book List
"…Her marvelous star is multi-faceted and her co-stars are colorful. Her fantastical fiction is unique and adding historical facts with era-perfect depiction of a bawdy Barbary Coast adds believability."  –  RT Book Review
"Steampunk author Cato turns to the U.S. in this well-researched and vivid fantasy…Cato cleverly brings her colorful Barbary Coast–era San Francisco to life, highlighting the neglected perspectives of the outsiders and the dispossessed who made up the majority of its populace."  –  Publishers Weekly
"Cato channels her flair for steampunk fantasy into the story of a plucky heroine…Cato has a talent for setting in motion a cast of smoothly likable characters."  –  Kirkus
"Beth Cato's debut series, The Clockwork Dagger, established her as an exciting new voice in steampunk, a creator of compelling characters and a builder of fantastic worlds. In Breath of Earth, Cato weaves a compelling tapestry of clashing cultural values, bringing much-needed diversity to the genre."  –  Barnes & Noble
Clockwork series chronology
The Clockwork Dagger (Novel #1)
The Deepest Poison: Story (though chronologically takes places months before The Clockwork Dagger)
The Clockwork Crown (Novel #2)
Wings of Sorrow and Bone: Novella (after Clockwork Crown)
The Final Flight: Story (after Clockwork Crown)
The Clockwork Dagger
Full of magic, mystery, and romance, an enchanting steampunk fantasy debut in the bestselling vein of Trudi Canavan and Gail Carriger.

Orphaned as a child, Octavia Leander was doomed to grow up on the streets until Miss Percival saved her and taught her to become a medician. Gifted with incredible powers, the young healer is about to embark on her first mission, visiting suffering cities in the far reaches of the war-scarred realm. But the airship on which she is traveling is plagued by a series of strange and disturbing occurrences, including murder, and Octavia herself is threatened.

Suddenly, she is caught up in a flurry of intrigue: the dashingly attractive steward may be one of the infamous Clockwork Daggers—the Queen's spies and assassins—and her cabin-mate harbors disturbing secrets. But the danger is only beginning, for Octavia discovers that the deadly conspiracy aboard the airship may reach the crown itself.
The Clockwork Crown
Rich in atmosphere, imagination, and fun, the action-packed, magic-filled sequel to The Clockwork Dagger is an enchanting steampunk fantasy, evocative of the works of Trudi Canavan and Gail Carriger.

Narrowly surviving assassination and capture, Octavia Leander, a powerful magical healer, is on the run with handsome Alonzo Garrett, the Clockwork Dagger who forfeited his career with the Queen's secret society of spies and killers—and possibly his life—to save her. Now, they are on a dangerous quest to find safety and answers: Why is Octavia so powerful? Why does she seem to be undergoing a transformation unlike any witnessed for hundreds of years?

The truth may rest with the source of her mysterious healing power—the Lady's Tree. But the tree lies somewhere in a rough, inhospitable territory known as the Waste. Eons ago, this land was made barren and uninhabitable by an evil spell, until a few hardy souls dared to return over the last century. For years, the Waste has waged a bloody battle against the royal court to win its independence—and they need Octavia's powers to succeed.

Joined by unlikely allies, including a menagerie of gremlin companions, she must evade killers and Clockwork Daggers on a dangerous journey through a world on the brink of deadly civil war.
The Deepest Poison
Octavia Leander, a young healer with incredible powers, has found her place among Miss Percival's medicians-in-training. Called to the front lines of war, the two women must uncover the source of a devastating illness that is killing thousands of soldiers.
Wings of Sorrow and Bone
After being rescued from the slums of Caskentia, Rivka Stout is adjusting to her new life in Tamarania. But when Rivka stumbles into a laboratory run by the powerful Balthazar Cody, she also discovers a sinister plot involving chimera gremlins and the violent Arena game Warriors.
Final Flight
Captain Hue hoped he was rid of his troubles once Octavia Leander and Alonzo Garrett disembarked from his airship, but then the Argus is commandeered by a Clockwork Dagger and forced on a deadly mission. Hue must lead a mutiny that might bring down his own ship…. perhaps for good.
SOCIAL MEDIA
Beth Cato Website — http://www.bethcato.com/
Facebook — Bath Davis Cato
Twitter — https://twitter.com/BethCato